Kitchen cabinets can either make or break your kitchen. Other than its function of maintaining your kitchen organized and storing everyday essentials, utensils, and kitchen tools, kitchen cabinets serve as the center of attention of your luxury kitchen design. With that, you should really think and plan of investing in quality and luxurious kitchen cabinets that can significantly increase the functionality and aesthetic of your kitchen as a whole.
This article will help and guide you on what are kitchen cabinets and what are the things that make kitchen cabinets luxurious. Furthermore, this article will also aid you in understanding these factors, especially when you are considering customizing your own luxury kitchen cabinet. It is important to look at your priorities when building your luxury kitchen cabinets so that you can ensure outstanding aesthetics with utmost efficiency for your daily endeavors.
If you are thinking of building your luxury kitchen cabinets soon, this article will surely be a helpful guide.
Elements of a Luxurious Kitchen Cabinet
● Style of the kitchen cabinet
(Source: Unsplash.com)
There are a number of different possibilities in building your luxury kitchen design. However, when customizing your own kitchen cabinets, you must remember to always put quality and functionality as the prime priorities. You should decide on a kitchen cabinet style that can be beneficial for you and your daily needs.
It is important to remember that kitchen cabinets significantly increase the value of your kitchen as a whole. With a customized kitchen cabinet, your kitchen will look undeniably classy and expensive without having to compromise any of your personal touch and character. Furthermore, finding the right balance between kitchen cabinet styles paired with the right finishing and touches, your kitchen cabinets will surely look and feel luxurious.
If you already have an existing kitchen cabinet, you can simply recolor and add finishing touches to alter its style and fit your desired luxurious design. Do not underestimate the power of paint because it can turn your simple kitchen cabinet to a luxurious looking one if done right and properly. With that, we highly suggest you hire a professional painter so that they can give the best quality paint that will look good and last long.
● Type of kitchen cabinet
You can browse and talk to different luxury kitchen cabinets in the city you live in so that you can request for the type of design you want to use in making your luxury custom kitchen cabinets. You can look through their options in order to trigger ideas for how you want to style your kitchen cabinets in order to complement your dream luxury kitchen. Most companies that provide customized kitchen cabinets have a number of different options for their clients. These customizable kitchen cabinets can be styled as classic, traditional, contemporary. It is important that you consult with your provider so that they can plan the type of kitchen cabinet that you want for your kitchen.
● Materials used in the kitchen cabinet
It must be noted that quality and luxurious kitchen cabinets are made up of various materials. At the end of the day, it is the material that decides if your kitchen cabinet is luxurious or not, because it is the material of your cabinet that determines its durability and appearance.
In most customized luxury kitchen cabinets, the most common materials utilized are wood and metal. It is important to invest in quality and long lasting wood and metal in order to prevent problems arising in your kitchen after several years. Metal and wood frequently produce the best kitchen cabinets. These two materials are flexible and hence can be easily customized according to your liking and taste. In most modern luxury kitchen cabinets, stainless steel kitchen cabinets are also usually utilized. You should invest in durable metal pulls and handles, and noiseless easy-glide drawers. Furthermore, most people add glass door fronts in their luxury kitchen cabinets so that they can display their decorations or luxury dining ware. It is also wise to invest in materials that are easy to clean and not too high-maintenance; these materials include non-porous ones.
● Organization of the kitchen cabinet
(Source: Unsplash.com)
Appearance and functionality are the prime consideration for a luxurious kitchen cabinet. However, you must not also forget and compromise the organization of your kitchen cabinet. No matter how beautiful your kitchen cabinet is on the outside, if it is unorganized on the inside, then it would still not be luxurious. Your kitchen cabinets should always look pleasing both inside and outside.
With that, it is important to have your customized kitchen cabinets to have installed drawers, pull-out shelvings, or other unique features so that you can organize your kitchen tools and utensils in accordance to your liking. Investing on an expensive kitchen cabinet that has no organization capabilities is a waste of money, hence always put this into consideration.
● Space of the kitchen cabinet
In relation to being able to organize your kitchen items, as you design your luxury kitchen cabinets, you must also consider the space that you need. The space that you allocate is the dictating factor on how efficient your kitchen cabinets will be. You can opt to install drawers or pull-out shelves for your kitchen cabinets that can give you enough space to organize your pots or pans. You can design custom features, such as wine storage drawers, spice racks, tray dividers for baking sheets. No matter what you choose, it is important to always think about the space for storage. You are in control of how to best use the space in your kitchen so you must put into mind that your kitchen cabinets store your daily essentials, kitchen tools, small appliances, and the likes, so always allocate enough space for everything in order not to deal with storage problems after a couple of years. Designating proper space for everything is definitely a characteristic of luxurious kitchen cabinets.
Features of a Luxurious Kitchen Cabinet
● Crown molding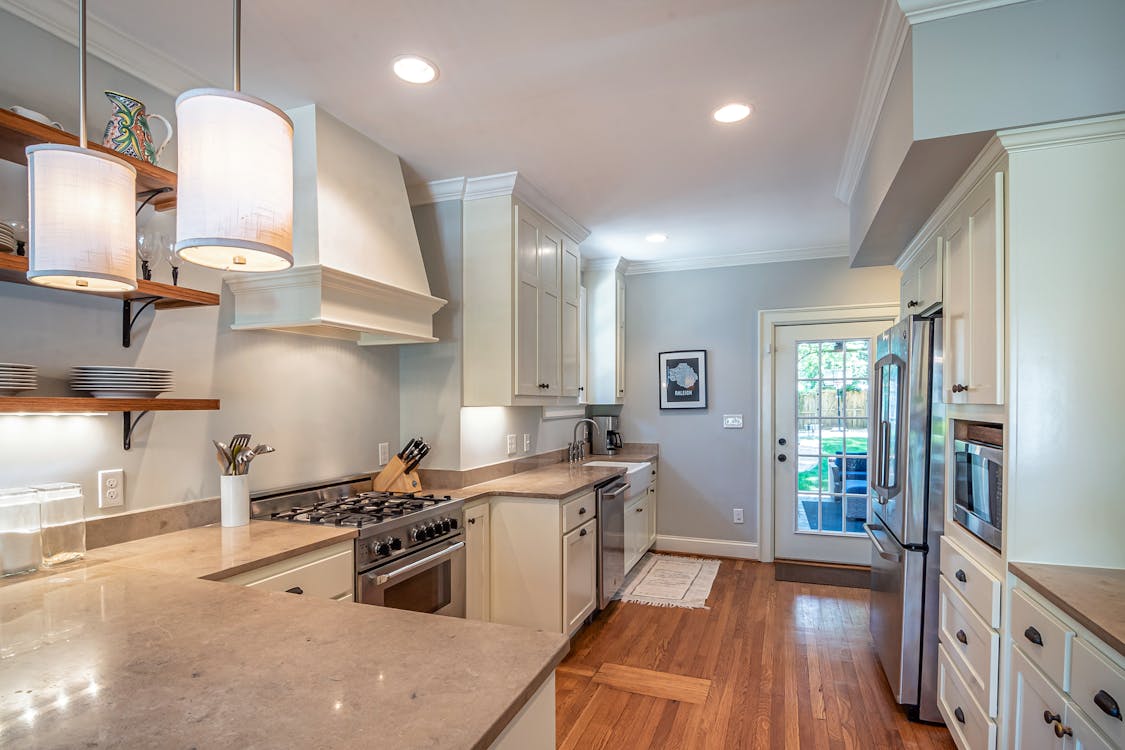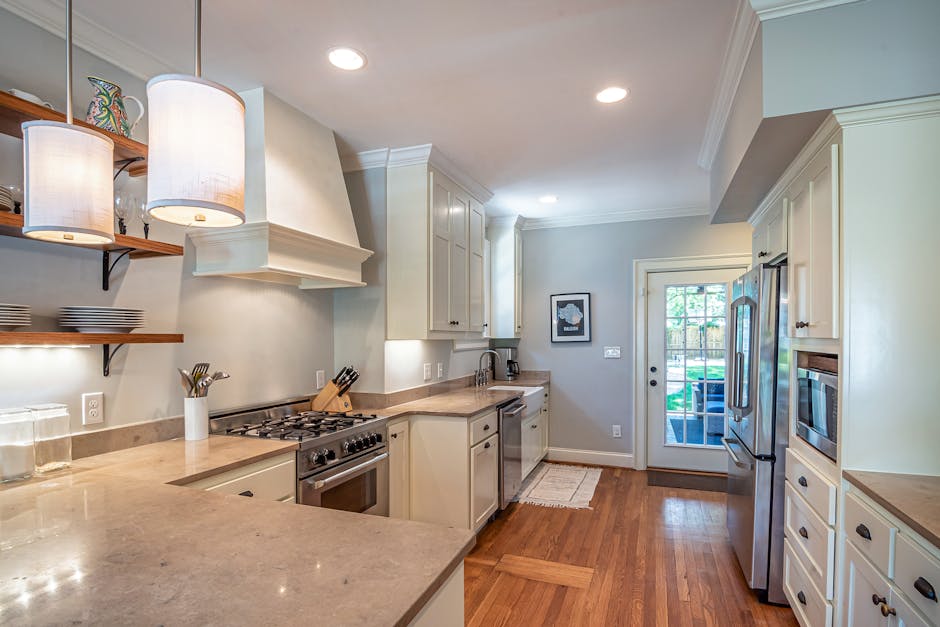 (Source: Pexels.com)
Most people are familiar with crown molding. However, most people also do not realize how the right crown molding can elevate the look of their kitchen cabinets. Adding molding to your kitchen cabinets can help enhance the most basic room. It is definitely a feature that makes a kitchen cabinet luxurious.
Crown moldings are those added trim pieces at the top of the room frequently where the ceiling and walls meet or at the top of cabinets. The purpose of crown molding is to give a kitchen a finished look and added style. These crown moldings can add depth, detail, and richness in kitchen cabinets. Crown moldings permit homeowners to customize their kitchen cabinets, no matter what the style of their kitchen is.
There are definitely a number of different crown molding to choose from such as traditional or standard, stacked, stepped, ornamental, and many more. You should definitely consult with your designer so that you can choose the right one that will fit the design of your kitchen cabinet.
● Accent light
(Source: Unsplash.com)
One of the most important features of a luxurious kitchen cabinet is proper lighting. Before, the kitchen used to be a room that was used to cook and eat and was lit by a single light bulb or fixture in the ceiling. However, today, we have kitchen cabinet lighting that significantly changes everything. Kitchen cabinet lighting is utilized not only to function properly when doing tasks in the kitchen but also in order to create moods and images and to accentuate areas and objects that you wish to feature. With the different design elements, colors and materials utilized in the kitchen, accent lighting offers the opportunity to enhance those design elements and colors.
There are different accent lighting for kitchen cabinets. These include: (1) Under cabinet lighting that is the most commonly used type of kitchen accent lighting today. However, under cabinet lighting is also utilized as task lighting when you are working on your counters below your kitchen cabinet; (2) Above cabinet lighting that can be utilized in order to accentuate kitchens that have a wide area above the cabinets. This is especially beneficial for kitchens with high ceilings; (3) Interior kitchen cabinet lighting which really works when you have a cabinet or cabinets with glass doors. Adding glass shelves within those cabinets also helps the light to travel. If you do not have glass front cabinet doors, you can still add accent lighting inside of your cabinets. However, those lights truly are there in order to perform a task. You open the door and engage the switch and then the light turns on enabling you to see better inside of the cabinets; and (4) kitchen drawer lighting that can help you see the insides of your drawer clearly. With kitchen drawer lighting, there will be a small switch that will be triggered whenever you open your drawer. This type of lighting is commonly utilized within the silverware drawers or other drawers where added visibility may be required.
● Glass door fronts
(Source: Unsplash.com)
Glass door fronts are definitely a feature of a luxurious kitchen cabinet. Whether transparent, frosted or seeded, a glass door front sets the stage for a glimpse of high-end dishware and shining decor, especially when your kitchen cabinets are installed with interior kitchen cabinet accent lights.
Glass door fronts are installed in order to store and showcase intricate and quality items such as dish hardwares, crystal cups, and the likes. These glass door fronts elevate the final look of your kitchen cabinets because it allows you to curate items according to your liking. Frosted or colored glass would also open up your kitchen design without necessarily showing your kitchen cabinets' contents. Furthermore, these glass door fronts reflect light, which is beneficial for it brightens up dark spaces. Glass front cabinets can also create an illusion of depth. With that, placing glass front cabinets near windows provides the double benefit of light and a reflected view. Solid kitchen cabinets can appear aesthetically good, however they can also look monotonous. Glass door fronts can cut this monotony, and balance the overall luxury look of your kitchen cabinets. With all of these, glass door fronts are definitely a feature of a luxurious kitchen cabinet because they can make kitchen design more open and inviting, which lets anyone in the space feel right at home.
● Matching end panels
Since a number of kitchen cabinets end at a doorway or kitchen entrance at which there is no wall that can conceal the rough substrate of the cabinets frame or sides, the end panel was made as a simple way of hiding this area without requiring altercation of the structure of the cabinet itself. Furthermore, the end panel can be utilized as a decorative surface piece that can make the exposed end of a base or top cabinet appear more attractive. It must be remembered that end panels usually do not have a functional or structural purpose. However, they are definitely a feature of a luxurious kitchen cabinet because through the incorporation of base moldings or corbels utilized throughout the cabinetry with the end panel's design, you are able to have a complete and appealing kitchen cabinet look. So instead of a flush skin, go with matching panels for your cabinet ends. This type of detail in kitchen cabinets can go with any kitchen style and design.
Bottomline
Making the decision to have a quality and luxury kitchen can be intimidating, especially since the kitchen is the heart of the home. With that, it is vital that every detail is just right. When you are investing in a space that is both functional and communal, it is important that every detail, from the kitchen appliances to kitchen cabinet, provide both those functions. Hence, when thinking of upgrading your kitchen, always invest in luxury customized kitchen cabinets. Follow and look for the things stated above to achieve a luxurious kitchen cabinet. Because even if the prices of high-end kitchen cabinets may be daunting, you are saving yourself a lot of hassle and headaches in the future. So invest in quality, luxury kitchen cabinets, today.
References:
1. Forbes. 2018. 10 Luxury Details For Your Kitchen Cabinets And Island. Retrieved from: https://www.forbes.com/sites/houzz/2015/08/29/10-luxury-details-for-your-kitchen-cabinets-and-island/?sh=4bc9981a7bba. Retrieved on 6 February 2020.
2. HGTV. 2020. Luxury Kitchen Design. Retrieved from: https://www.hgtv.com/design/rooms/kitchens/luxury-kitchen-design. Retrieved on 6 February 2020.
3. L'Atelier Paris. 2019. A Guide To Luxury Kitchen Cabinets. Retrieved from: https://www.leatelierparis.com/blogs/news/a-guide-to-luxury-kitchen-cabinets. Retrieved on 6 February 2020.
4. Toll Brothers. 2020. 25 Obsession-Worthy Kitchens. Retrieved from: https://www.tollbrothers.com/blog/25-obsession-worthy-kitchens/. Retrieved on 6 February 2020.