TIn the modern home, the kitchen is now the showpiece. The kitchen sets the ultimate design statement of a modern home. It is the stage for all the other design decisions when constructing a home. With that, most homeowners want their kitchen to be luxurious, elegant, and in style because it is the center of the home. There are many elements that make up a luxurious kitchen such as custom cabinetry, marble countertops, a gigantic kitchen island, and high technology accessories. Furthermore, materials utilized for luxury kitchens are often high-end, durable, and attractive such as countertops that are made up of granites and backsplashes that are tiled in mosaic, subways or other styles in order to add visual interest.
The pinnacle of kitchen luxury feels unattainable for many homeowners who wish to remodel their kitchens. However, a high-end and luxurious kitchen can be achieved through smart planning and clever shopping. It is possible to achieve a designer look kitchen without having to blow your budget. The secret is to follow simple design principles, add luxury elements, and use quality custom materials for your kitchen. Hence, in order to help you achieve your dream custom luxury kitchen, here are the tips you can follow:
1. It Increases Functionality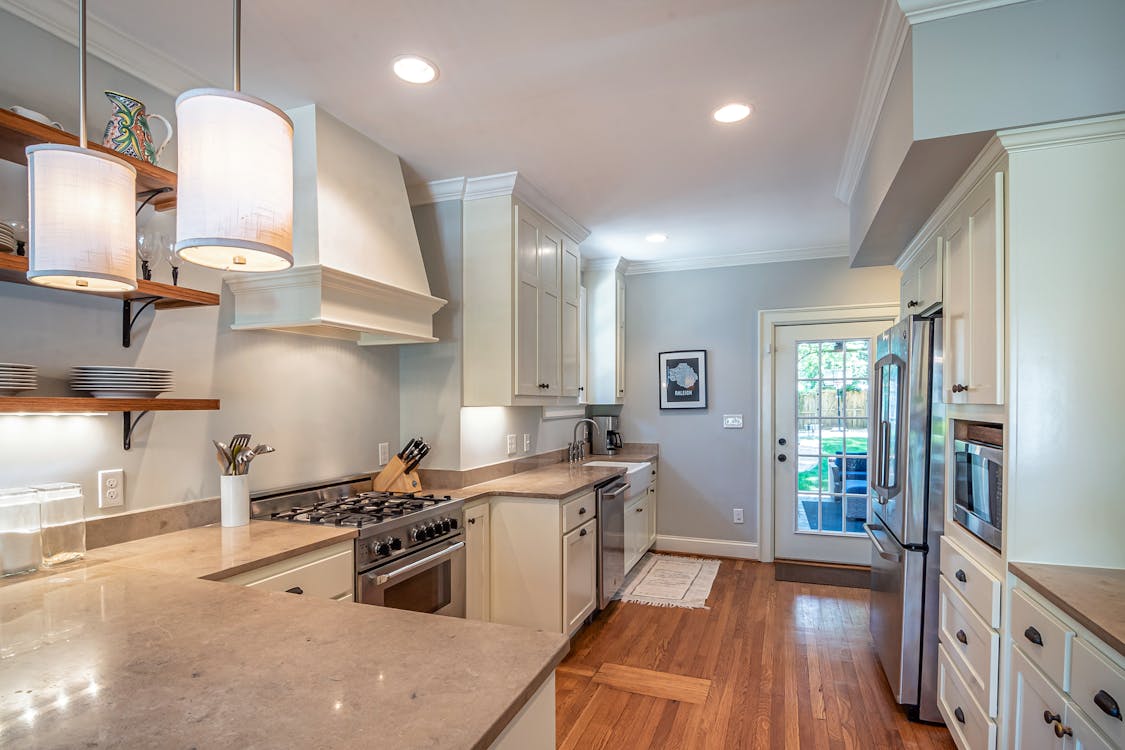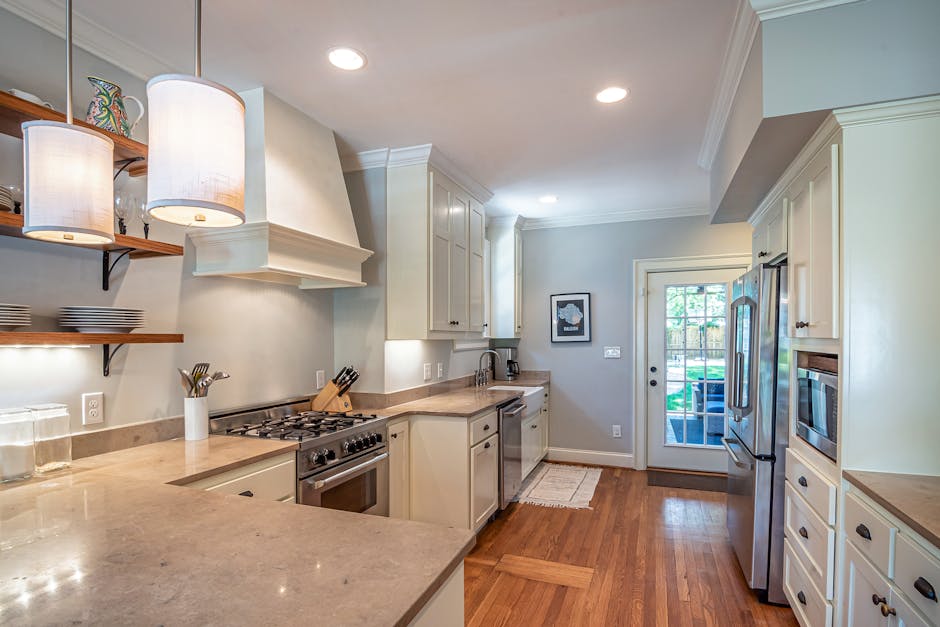 (Source: Pexels.com)
The countertop is one of the first features a person sees in a kitchen. Hence, it is important that the kitchen countertop does not only provide its function but also make a bold statement for it can make or break the design aesthetic of the whole area. The countertop makes the biggest first impression for your kitchen. It also sets the tone of the whole area. So if you want to achieve that luxurious kitchen, then you should really invest on a quality and unique countertop. You can use statement pieces and materials in order to achieve a luxury countertop. You can opt to use quartz which is considered as the most luxurious countertop material that you can go for. You can also use semi-precious stones like agate or dumortierite for your countertops. A great slab of Calacatta Gold marble can also be utilized. In the end, regardless of what material you will use for your luxury countertop, it is important to take into consideration the color and the design, size and shape of the material, integration with the backsplash, and durability and ease of maintenance. All of these factors should be thought of in order to make a luxury countertop work that will last you a long time.
2. Have Your Kitchens Cabinets Customized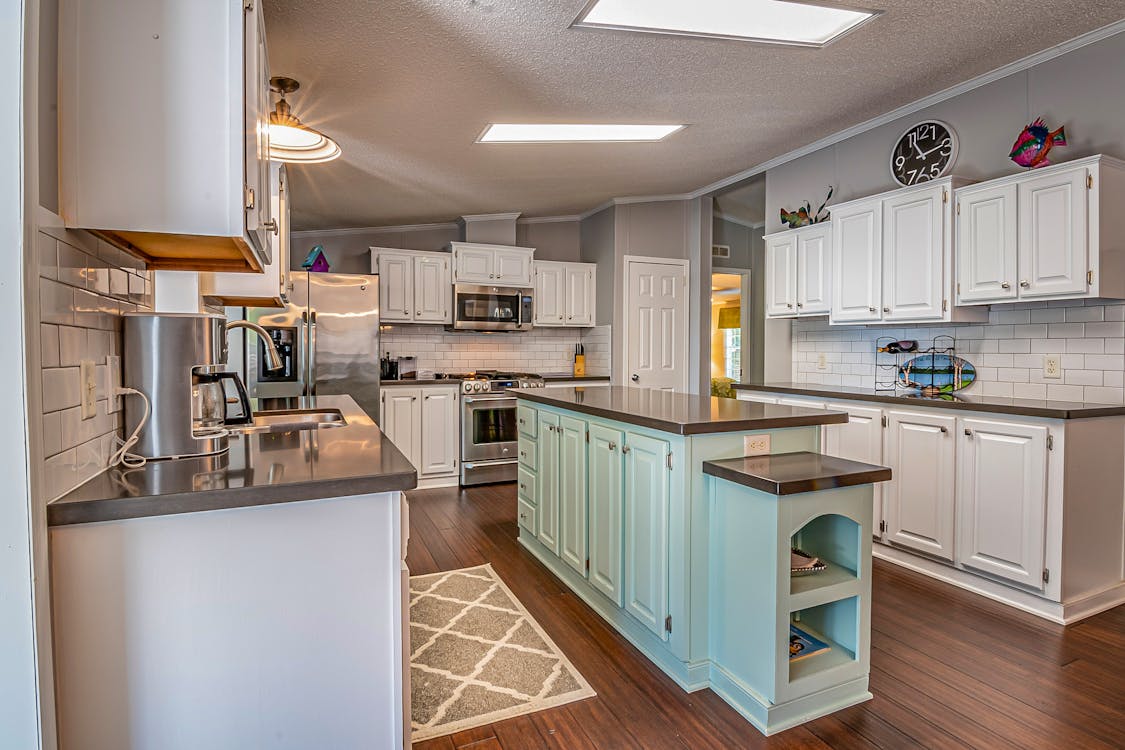 (Source: Pexels.com)
The custom cabinets are the cornerstone of any luxury kitchen. It is the focal point of your luxury kitchen design. One of the best ways in order to add a luxury element in your kitchen without having to splurge so much is through upgrading your cabinet doors. More than the aesthetic, customizing your kitchen cabinets will benefit you in many ways. It will let you organize your kitchen and keep everyday items with easy access. Hence, customizing your kitchen cabinets does not only add luxury but also improves the function of your kitchen as a whole.
In addition, the style of your cabinets increases the luxury value of your kitchen. Knowing the right style for your kitchen cabinets that are fit for your kitchen is one of the key ways in order to produce an expensive looking kitchen as a whole without having to compromise its function. In order to style your kitchen cabinets, you may want to add finishing touches so that you can increase the originality of your luxury cabinet designs. These design styles include crown molding, color, and mixed door styles. You can also opt to paint your existing cabinets in order to add color to your material so that you can achieve that luxurious kitchen cabinet design. Moreover, the most common cabinet materials that are utilized for luxury kitchens are wood and metal. It is important to invest in high quality wood or metal so that you can prevent problems arising within the first couple of years. High quality wood and metal will also last you for a very long time. For added luxury, you can also include glass door fronts to showcase your decorations or high-end dining ware. It is good to note that for modern luxury kitchen cabinets, stainless steel is the preferred kitchen cabinet material.
With today's increasing interest with minimalist styled kitchens, most people prefer ditching upper kitchen cabinets in favor of open-shelving. This will significantly save you money and also will deliver a more luxurious look and feel for your kitchen. You can also add some design features in your open-shelves cabinets such as for wine storage, spice racks, or tray dividers for baking sheets.
3. Add A Stunning Backsplash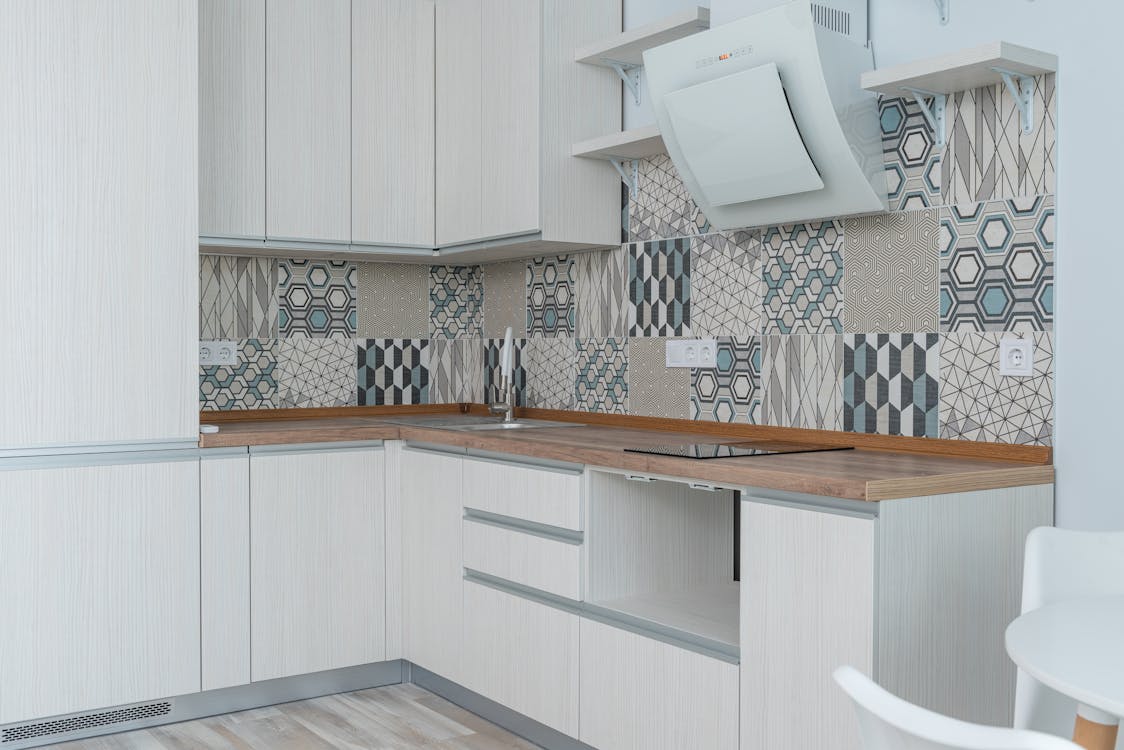 (Source: Pexels.com)
The kitchen backsplash is an area used to cover or decorate a space of the kitchen. It is an area on the wall between the kitchen's countertop and upper cabinets. Many homeowners express their creative ideas and personal styles in their kitchen backsplashes through using different tiles. Hence, other than the functional purpose of backsplashes, it also holds an important aesthetic contribution in order to achieve your goals of having a luxury kitchen. These backsplashes can add a significant tone and drama to the vibe of your whole kitchen, thus it is vital you choose the right types and materials of tiles for your backsplash. The usual tile material for backsplashes are porcelain, glass, and natural stone. Porcelain tiles are frequently more resistant to wear, tear, and heat compared to the standard ceramic tiles. It is also considered to be moisture resistant. With these qualities, porcelain are usually excellent for kitchen backsplashes especially to those homeowners who really like to cook a lot of food. Glass is also used as a kitchen backsplash material. It adds a sense of luxury and aesthetic especially to a kitchen with dark tones and colors. Glass tiles are an excellent material for brightening dark spaces. Natural Stones are usually the preferred type of material for backsplashes if you want to achieve a luxurious look for your kitchen. It offers a smooth and contemporary feel for kitchen walls. It also has a comparative sheen to a polished tile. Marble, limestones, slate, or travertine can be used as natural stone backsplash in order to achieve your aesthetic desires.
If you do not have a centerpiece in your kitchen, replacing a few bright tiles on your backsplash with contrasting dark colors can significantly add a luxurious feel to your kitchen if done properly. It is good to note that dark grout or tiles will help make this area stand out. Moreover, you may opt to replace a number of square tiles with hexagon units. This contrast in shapes aids in drawing in the eyes of guests and household members to your backsplash. Furthermore, large format tile designs, unexpected materials, and patterned or engraved tiles can all be utilized in order to make a huge difference out of your kitchen backsplash.
4. Choose Luxurious Lighting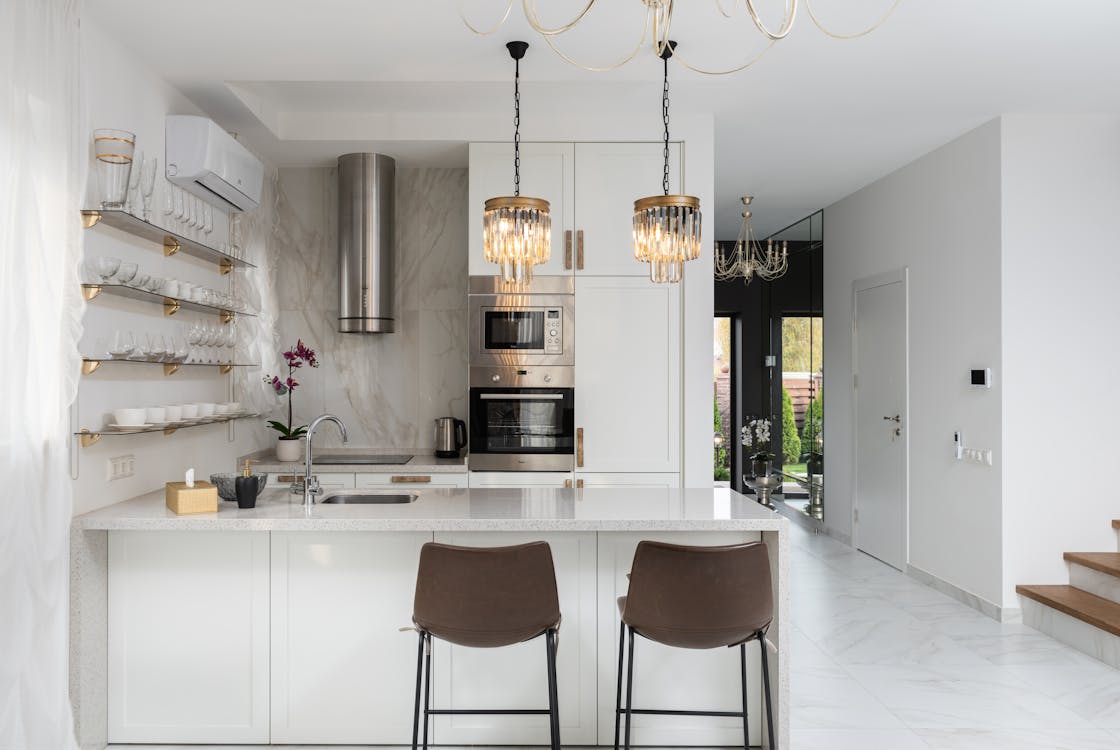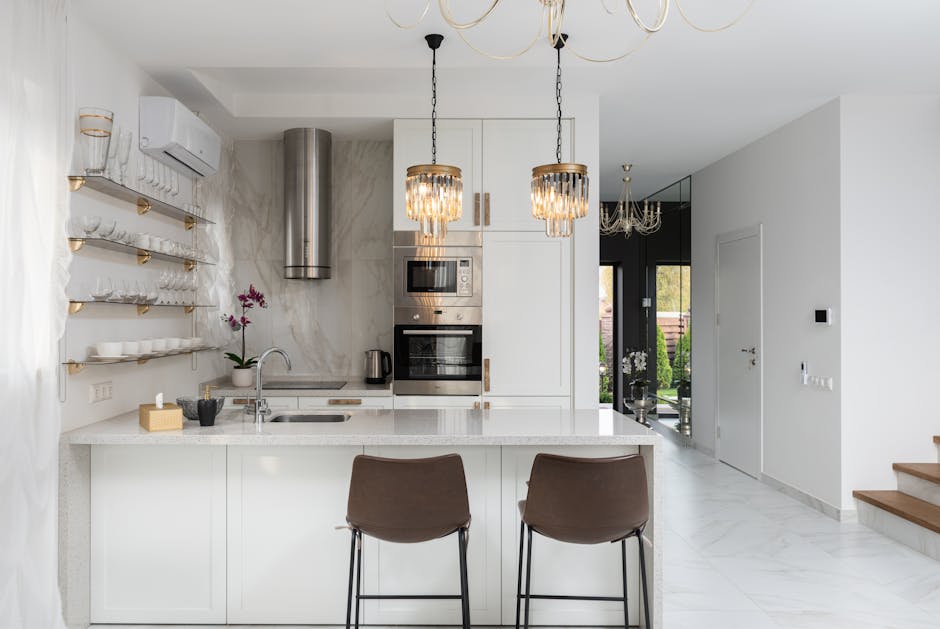 (Source: Pexels.com)
Lighting is a vital component in your kitchen that not only impacts the overall function of but also the mood, vibe, and aesthetic of your kitchen. A functional kitchen needs a variety of lighting for workspaces, dining areas and other functions. With that, it is important that the lighting is both task-oriented as well as ambient and friendly. In order to achieve that luxury kitchen, your general lighting and lighting fixtures must complement your kitchen design as a whole. It is also good to note that most luxury kitchens feature fixtures that are dimmable so that the light can be adjusted to meet specific requirements.
In addition to that, in order to achieve a luxury kitchen, you must obey the rule of 3 levels of light which includes down lights, under-cabinet lights, and pendant lights. You will want to light at different levels: down lights or recessed, under-cabinet strip lighting, and hanging lighting, in order to achieve that proper mix of task and ambient lighting. Furthermore, you can opt for warm, golden tones for the bulb color temperature. For general room illumination, a recessed lighting in the ceiling works best.
For luxury kitchens, you must remember that it is discouraged to have too many lights hanging from the ceiling. It is usually recommended to have only one statement hanging-style fixture in the kitchen, whether it's a pendant over an island or eating area. It must be noted that hanging pendant lights must be about 40 inches above the island or tabletop so they are not in the sight line of the average person standing or sitting in the space. However, in the end it all comes down to personal preference. It all boils down to making the overall look work by incorporating the right lighting fixtures to your other kitchen design elements such as the cabinets, backsplash, island, countertops, and the likes.
5. Hide Your Appliances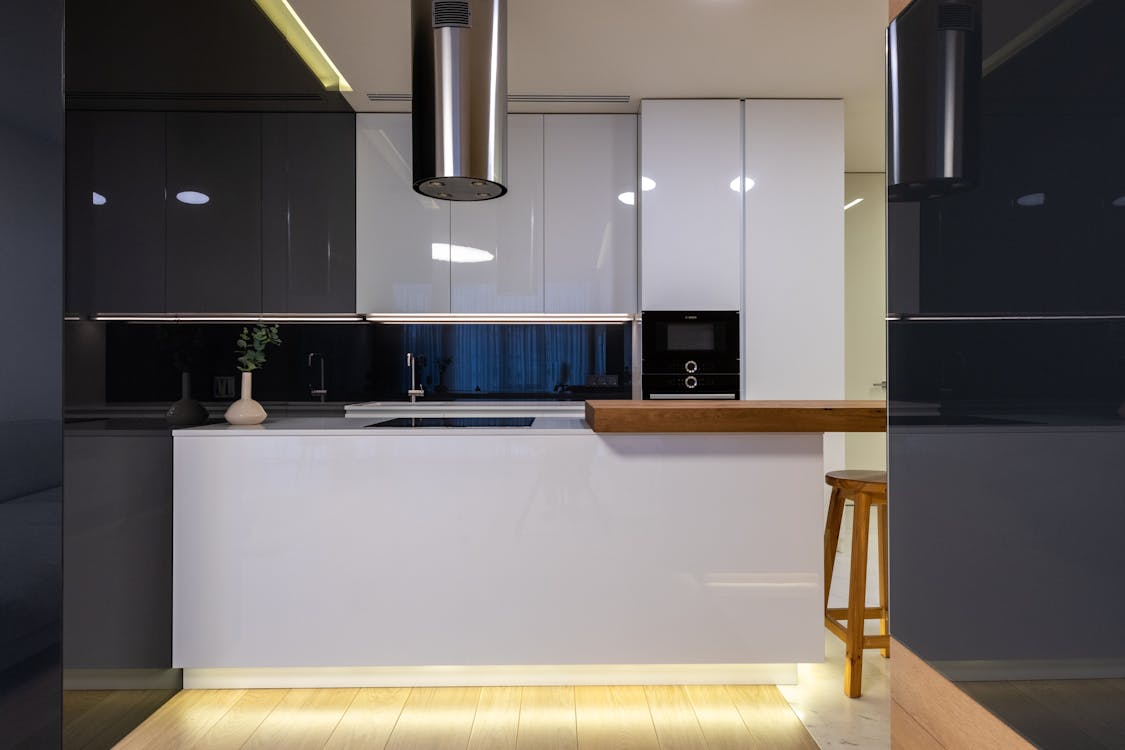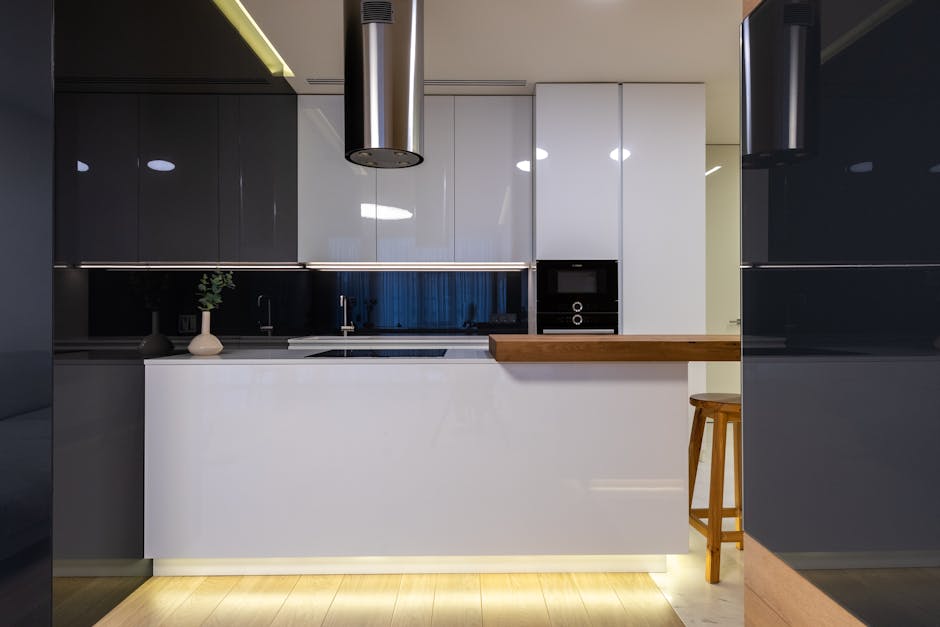 (Source: Pexels.com)
A sleek and compact design is one of the most important elements in modern luxury kitchens. In any type of kitchen, appliances, both large and small, are a must in order to aid the family when cooking. However, it must be taken into mind that in luxury kitchens they are usually not on display. In fact, in high end homes, hidden kitchens have been increasingly applied by homeowners. This trend is so popular that this look is being adapted and incorporated to various decorating styles in the kitchen. If you are going for a sleek and minimalist yet still luxurious kitchen, then hiding your kitchen appliances within custom build cabinets is the answer. With custom built cabinets, any high technology appliances, whether large or small, such as coffee makers, refrigerators, ovens, and the likes, can be hidden. Coolers for wine collection can also be hidden in order to achieve that sleek look. How much you leave out in the open is entirely up to you. So if you do not want to hide everything, you can opt for accent shelving which breaks up the expanse of cabinetry and permits room for displaying small niche items or accessories.
6. Choose a Luxurious Hardware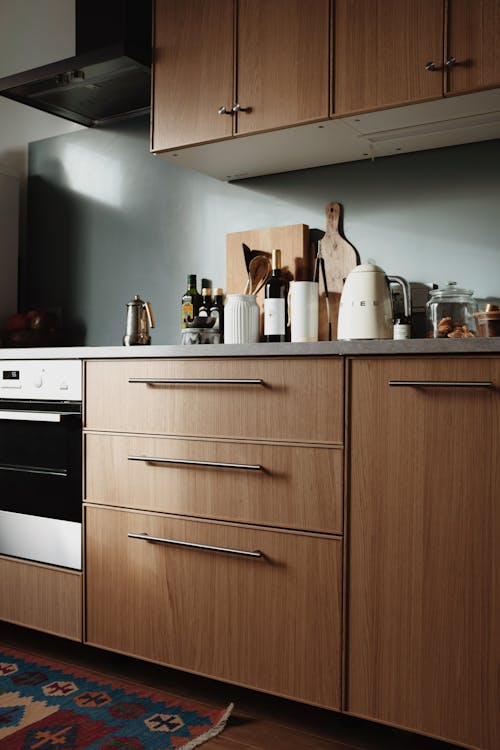 (Source: Pexels.com)
Accessorizing your kitchen is the most important part in order to balance everything together and in order to achieve that luxury kitchen you have always dreamed of. There are a lot of ways in order to accessorize your kitchen such as adding some little details around the corner or just focusing on your kitchen cabinet hardware. Kitchen cabinet hardwares are certainly one of the things that will accessorize and give that luxurious feel to the kitchen. It is the jewelry option of the kitchen. Other than thinking of the functional aspect of the kitchen hardware, it is important to take into consideration its style, material, and design because it can drastically change the appearance of your space as a whole. Over the last few years, antique brass has been utilized in most modern homes, while chrome and brushed nickel are still a choice to a large population of homeowners. If you wish to achieve a luxurious kitchen, most opt for ong, lean brass, gold, or stainless steel drawer pulls. They are modern yet have some traditional vibe to it. It also has the ability to adapt to a variety of styles and color palettes making for an easy update if you wish to change the design after a few years. In the end, what is important is that you coordinate your cabinetry hardware with the other design elements in your kitchen such as the faucet, the cabinets, and lighting. These things should compliment each other in order to achieve that luxurious kitchen vibe.
References:
Homedit. 2019. Ways to Turn Your Kitchen Into A Hub of Luxury. Retrieved from: https://www.homedit.com/turn-your-kitchen-into-a-hub-of-luxury/. Retrieved on 7 July 2020.
Houzz. Forbes. 2015. 10 Luxury Details For Your Kitchen Cabinets And Island. Retrieved from: https://www.forbes.com/sites/houzz/2015/08/29/10-luxury-details-for-your-kitchen-cabinets-and-island/#251ad7107bba. Retrieved on 7 July 2020.
Insinkerator. 2018. 10 tips for your luxury kitchen project. Retrieved from: https://insinkerator.emerson.com/en-gb/blog/10-tips-for-your-luxury-kitchen-project. Retrieved on 7 July 2020.
Livabl. 2019. 4 essential tips for designing an expensive looking kitchen on a budget. Retrieved from: https://www.livabl.com/2019/07/designing-a-luxury-kitchen-on-a-budget.html. Retrieved on 7 July 2020.
Williams, K. Huffpost. 2017. 7 Tips to Get the Best Value in a Luxury Kitchen. Retrieved from: https://www.huffpost.com/entry/7-tips-to-get-the-best-value_b_3756905. Retrieved on 7 July 2020.