Kitchen Style Guide: Traditional, Transitional, and Modern Kitchen Types
The Kitchen is one of the most vital spaces in one's home. It is where family and relatives make the most time to cook, converse, and from deeper relationships within each other. Knowing the right ambiance and environment of your kitchen can greatly impact the aesthetic and mood of your place as a whole. Hence, it is important to know which types of kitchen will most likely be a fit to your own space.
Here are some of the most common kitchen types:
1. Traditional Kitchen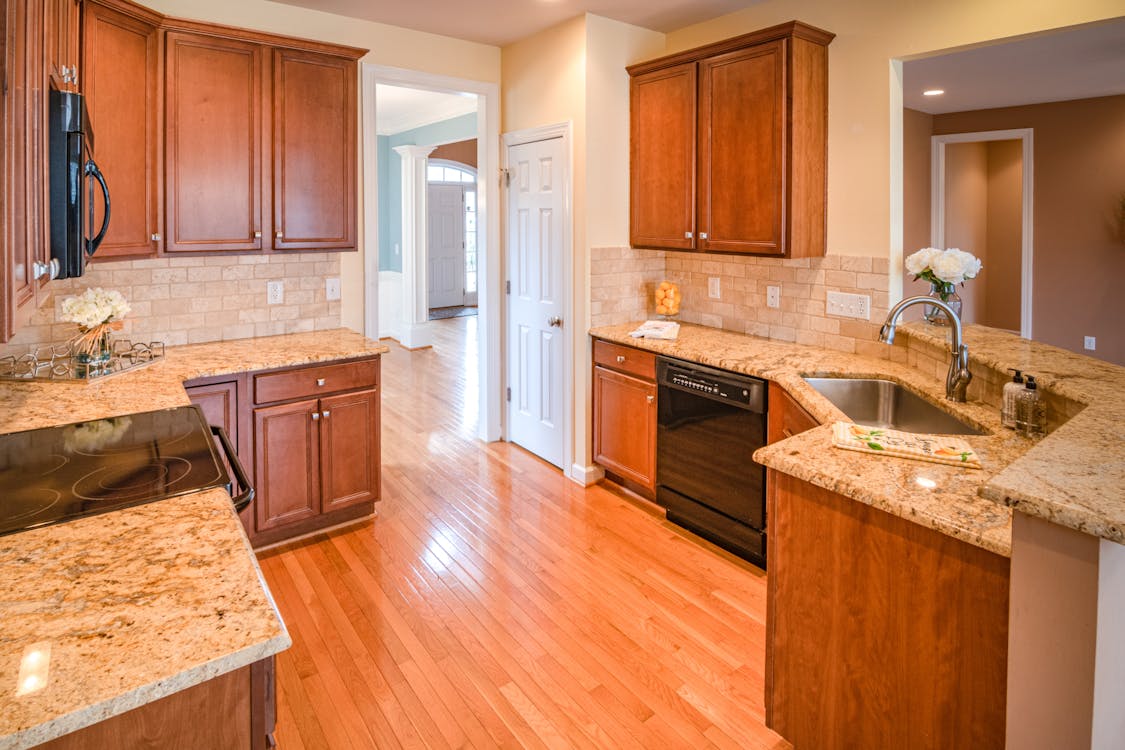 (Source: Pexels.com)
Traditional kitchen is not synonymous to old country, old word, or outdated. Rather, it is more on the classic, warm, and "homey" type of kitchen. This type of kitchen uses a lot of real wooden finishes, with pale colors to match and seal the space. Most traditional kitchen types use cream, brown, and grey hues, combined with stone backsplashes and classic patterns. The cooker is the centerpiece in this type of kitchen, with an significant storage space for storing all kitchen utensils with easy access. This kind of kitchen is one of the most common and popular because it always stays in style throughout time.
The design of traditional kitchens focus on small details and individual character. As stated, wood is one of the most commonly used materials with muted colors to appear aged and welcoming. The floors are usually made from stained hardwood and tile to wrap the space more with natural materials. One of the fundamental designs in a traditional type of kitchen is a raised panel cabinet which improves the dimension and detail of the space. Crown molding can also be observed in this type of kitchen in order to enhance the layer of depth and overall aesthetic. Most families with this type of kitchen have ornaments and decorations that do not only add a unique touch to the kitchen but also give a more homey feeling.
In summary, these are the following elements that most traditional kitchen types have:
Natural materials
Ornamental crown molding
Classic stains and colors
Cabinetry doors with raised panels
Traditional lighting
2. Transitional Kitchen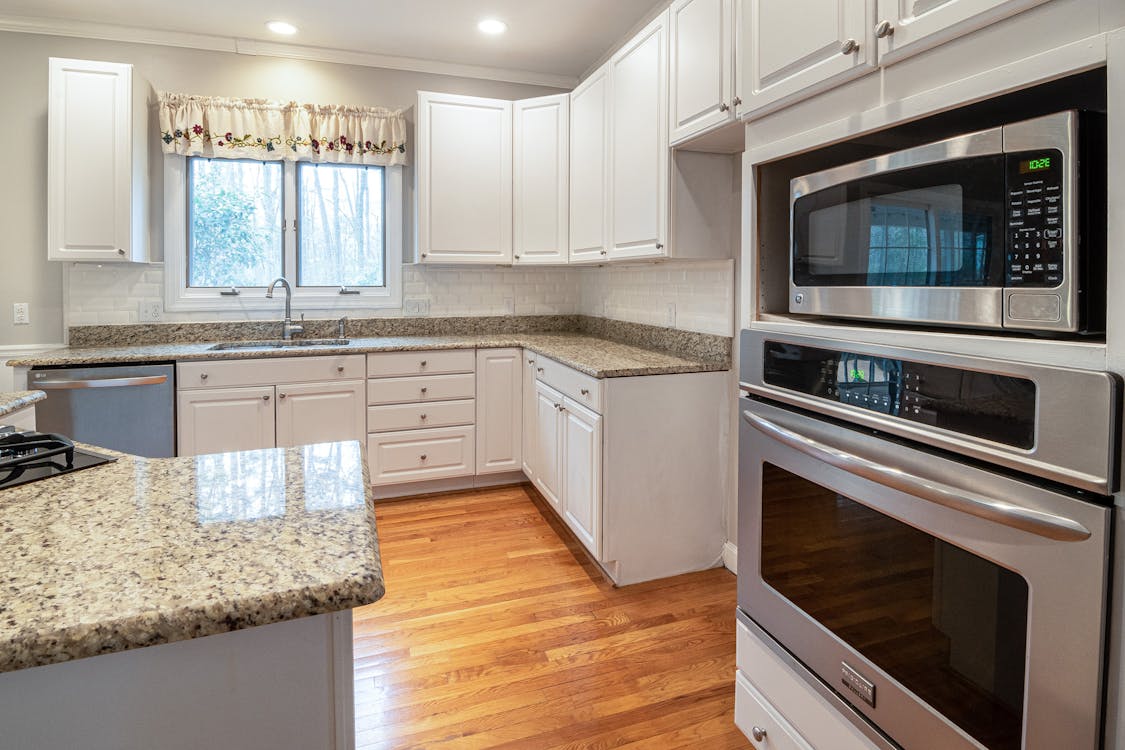 (Source: Pexels.com)
The aim of transitional kitchens is to combine the comfort that traditional kitchen types offer with the sleekness of modern kitchen. This means that both elements of traditional and modern kitchen can be observed in the transitional kitchen type.
The design of transitional types surely encompass modern and traditional designs. Cabinets are streamlined and subdued in this way they are observed to be low profile and not as eye striking like the traditional type. Shaker style doors are usually used in cabinets or one without very intricate carvings. Hardware of choice is minimal and modest to have a touch of the modern kitchen type. However, they should accentuate the cabinets. Hence, clean and uniform lines and designs are usually employed in the whole kitchen to wrap up the design as one. As stated above most traditional kitchens have decorative accessories while modern types have none, in transitional kitchens simple accents such as small crown molding and minimal use of corbels and wainscoting are usually observed. Neutral colors combined with textured elements such as having a white cabinet with a dark quartz countertop or gray cabinets with a light granite countertop. This color grading and scheme are usually observed in this type of kitchen.
In summary, these are the following elements that most transitional kitchen types have:
Simple cabinetry styles such as a Shaker style or cabinets with stained or painted finish
Simple Industrial lighting
Geometric, uniform, and clean lines in countertops, cabinetry, crown molding, and other elements in the kitchen
Neutral colors combined with man-made materials
Minimal decoration on the walls and on the molding
Traditional lighting installation on the ceiling or above the countertops
3. Modern Kitchen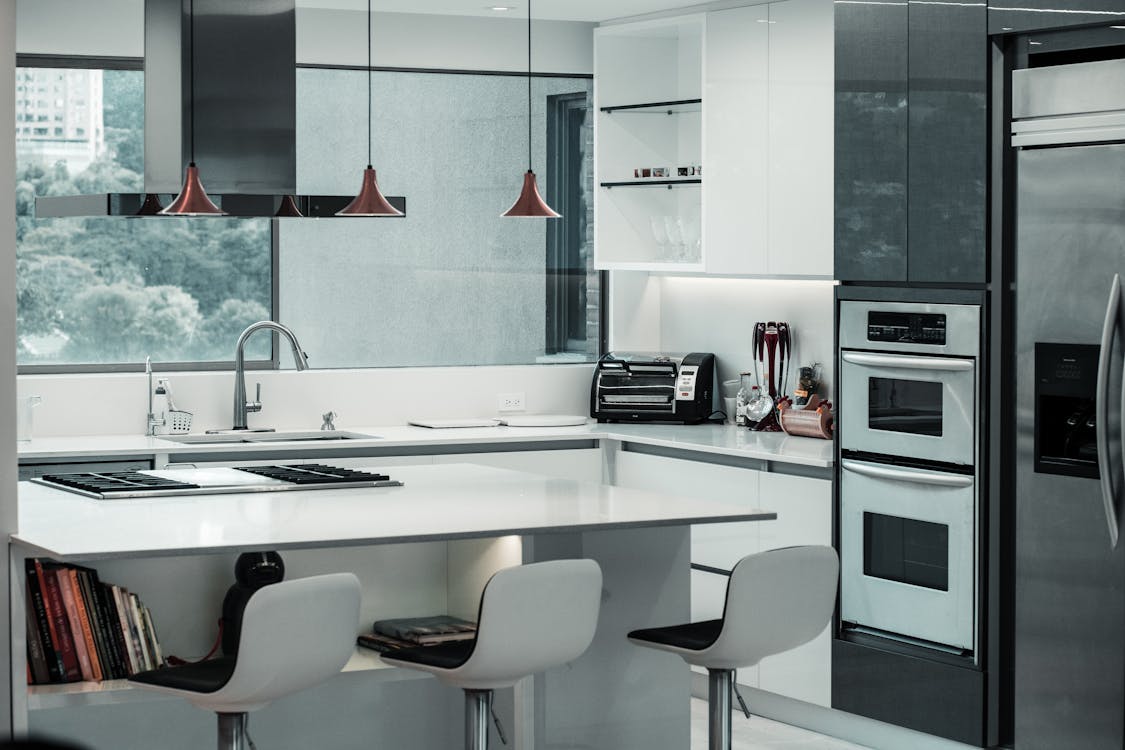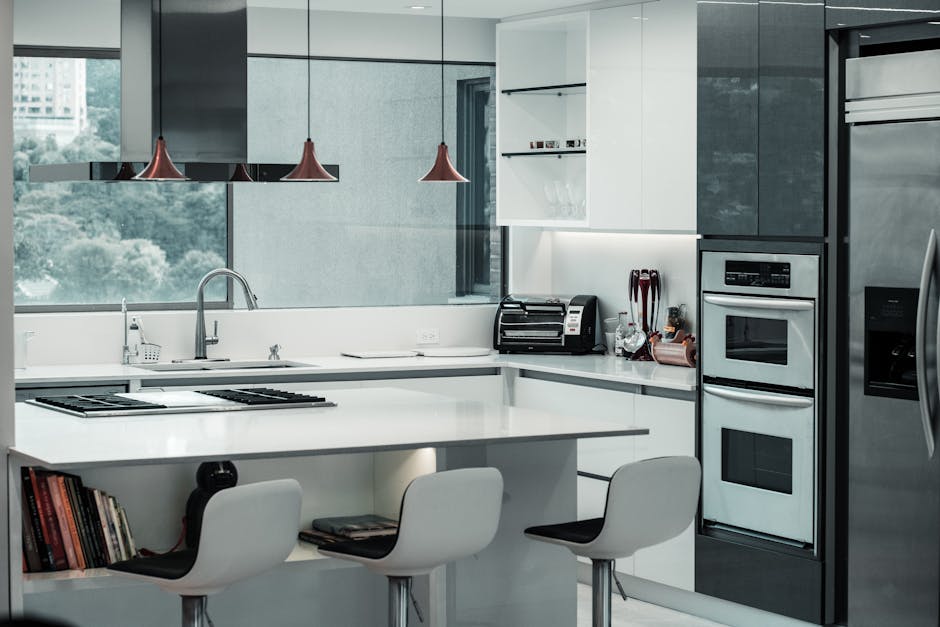 (Source: Pexels.com)
The modern kitchen type, unlike traditional and transitional, is essentially simple yet functional backed up with smart appliances and handless appliances in order to give you a uniform sleek look. One of the key elements in modern kitchens is the utilization of space in such a way that everything is put together without compromising storage capacity. In its very essence, the goal of modern kitchens is to be chic and trendy yet efficient and fashionable in the sense of the modern times so it uses sharp, straight lines, and block shapes.
The goal of modern kitchen design is to have a uniform sleek look. One of the key designs of this type of kitchen is its use of a flat-panel door style or a slab-door style. This type of door style in cabinets gives the space a more sleek and clean design. It uses a frameless, full-overlay cabinet construction type unlike traditional kitchens which have flush-inset cabinets. In this design, you will not be able to see a face frame at all, in that way there is consistency in spacing between all doors and drawers even between cabinets. Sleek and simple hardware or tubular pulls or flat linear pulls that are installed in cabinets are usually utilized in this type of kitchen. Horizontal lines of the cabinets are usually accentuated by cabinet hardware. In this way, it gives a more modern touch in the design as a whole. Modern kitchens also lack ornamentation or patterns that are usually observed in transitional or traditional kitchens. You can usually just observe simple full-height glass backsplash and countertops without any pattern or veining. In addition, modern kitchens put emphasis on horizontal lines. Hence, there is a significant tendency to design the space with a variety of long, wide lines with stacks of drawers and cabinets lined in a row with hardware set long and horizontal to wrap the design. The key element of modern kitchen is consistency in style of all drawers, cabinets, and even accent pieces such as lighting, tables, chairs, and bar stool. One of the ways to put everything together is by choosing monochromatic modern colors such as hues of greys, golds, whites, blues, and the likes. In this way, there is uniformity of the space.
In summary, these are the following elements that most modern kitchen types have:
Flat-panel door style
Frameless, full-overlay cabinet construction
Sleek and simple hardware/li>
Lack of ornamentation
Reliance in natural beauty of material such as granite and stone
Emphasis on horizontal lines
Classic monochromatic colors
Consistency in style
What is more important than knowing the different kitchen types is understanding your own personal style and where it belongs when translated into a kitchen design. Above design and aesthetic, functionality should be your utmost priority so always design your kitchen based on your lifestyle.
References:
Bentons Kitchen. 2017. What is Traditional Kitchen?. Retrieved from: https://bentonskitchens.co.uk/what-is-a-traditional-kitchen/. Retrieved on 13 May 2020.
Dishner, J. 2018. Guides to Creating a Traditional Kitchen. Retrieved from: https://www.hgtv.com/design/rooms/kitchens/guide-to-creating-a-traditional-kitchen. Retrieved on 13 May 2020
Sara, M. Kitchen Magic. 2020. What is Transitional Kitchen?. Retrieved from: https://blog.kitchenmagic.com/blog/what-is-a-transitional-kitchen. Retrieved on 13 May 2020.
Sebring. 2020. Transitional Kitchen Designs You Will Absolutely Love. Retrieved from: https://sebringdesignbuild.com/transitional-kitchen-designs-you-will-absolutely-love/. Retrieved on 13 May 2020.
Studio 76 Kitchens and Baths. 2016. Traditional Vs Transitional Kitchen Design. Retrieved from: https://studio76kitchens.com/traditional-vs-transitional-kitchen-design/. Retrieved on 13 May 2020.
Williams, T. 2020. What is Transitional Kitchen?. Retrieved from: https://freshome.com/kitchen/transitional-kitchen/. Retrieved on 13 May 2020.
Zaveloff, R. 2012. 8 Elements of a Modern Kitchen. Retrieved from: https://www.houzz.com/magazine/8-elements-of-a-modern-kitchen-stsetivw-vs~1393668. Retrieved on 13 May 2020.