With the fast shifting society, trends change from time to time. This is not only applicable to gadgets and fashion, but it also does apply to interior design such as our personal spaces at home.
For the positive side in 2020, most of us have stayed more in our homes than we ever did before. Throughout the quarantine period, many people realized and developed skills they thought they did not have before such as cooking. With that, this 2021, a significant change in the trend about our homes, more specifically the kitchen, have been noticed. Today, whether it may be for its look or function, our kitchen trends are evolving too.
So here are the kitchen design trends in 2021 that you should definitely know!
1. Increased storage
The past year during the peak of the quarantine, people have realized that storage at home is everything. Our kitchen storage was challenged as we stayed more at home and purchased more kitchen tools and stocked up more food. During the past year, we have realized that proper and enough storage is not only for keeping our groceries and food stocks but also for our small appliances, utensils, and all other kitchen related materials. In 2021, we aim to solve this problem by increasing our kitchen storage through having kitchen pantries.
(Source: Unsplash.com)
Kitchen pantries can mainly store your non-perishable foods such as canned foods, dried pasta, dry and wet ingredients, oils, condiments, and boxed or bagged food. Because home kitchen pantries are often enclosed, they even work well for the storage of some perishable food such as potatoes, onions, and other root vegetables. In addition to this, your kitchen pantry can also store food preparation items such as foils, parchment papers, extra pans, serving wares, and even small appliances that you do not use on a daily basis. It can even serve as a double storage space for plates, stemware, and china wares.
Kitchen pantry for increased storage is definitely a kitchen design trend for this 2021 because at the end of the day, there is no such thing as too much kitchen storage!
2. Larger Kitchen Island
Just like the need for increased storage space, the pandemic also made people realize that a large kitchen island is a staple and a must for a beautiful and functional kitchen. Unlike before in which kitchen islands are only utilized for preparing food, for cooking, or for storing kitchen related materials, today the kitchen island has evolved to accommodate more functions including for work, study, or just simply for chilling.
(Source: Unsplash.com)
In 2021, there is a trend in opting for an open or floating larger kitchen island because the past year has taught people that versatility is important in the kitchen. A large kitchen island would mean more areas that are accessible in the space. Furthermore, the area under the island's worktop can provide enough space for storage of kitchen related materials. More importantly, it can also offer additional seating opportunities. This allows the whole family to seat and do other tasks while someone prepares the home meal. These functionality and versatility are what most people need in 2021, especially that most of us just want to stay at home and bond with our loved ones.
3. Natural Material For Kitchen
Design and functionality are the prime considerations for building a kitchen. However this year, there's a growing interest in homeowners for kitchens that are environmentally sound, too. From the construction methods and materials utilized in the build to the long term sustainability implications and energy expended by appliances, more and more are getting into using natural materials such as wood and stone for their kitchen design.
(Source: Unsplash.com)
It may be out of fashion for a while but natural materials such as wood and stone are now enjoying a bit of a revival in 2021. The culmination of kitchen trends such as movement towards warmer color palettes and heightened eco-awareness in kitchen design have paved the way for more people to find ways to use and reclaim wood in kitchen design. This design trend relies on the same clean lines as still-popular contemporary and transitional kitchens, but with a look built on the warmth and textures of natural materials. This design trend is increasing in popularity because natural materials allow for the eyes to scan the kitchen with ease due to its soft, light, and neutral palette. This design emphasizes and celebrates the versatility of materials that are organic, nature-inspired such as wood-made island and stone flooring, and environmentally conscious, such as energy-efficient light fixtures and appliances. This natural and organic design trend is surely luxurious, sleek, and modern that will surely never go out of style for a very long time.
4. Darker Mood
Gone are the days that dark kitchens and living spaces are found as gloomy. In 2021, many people are starting to appreciate the fashion of taking kitchen walls, cabinetry, and surfaces to the dark side.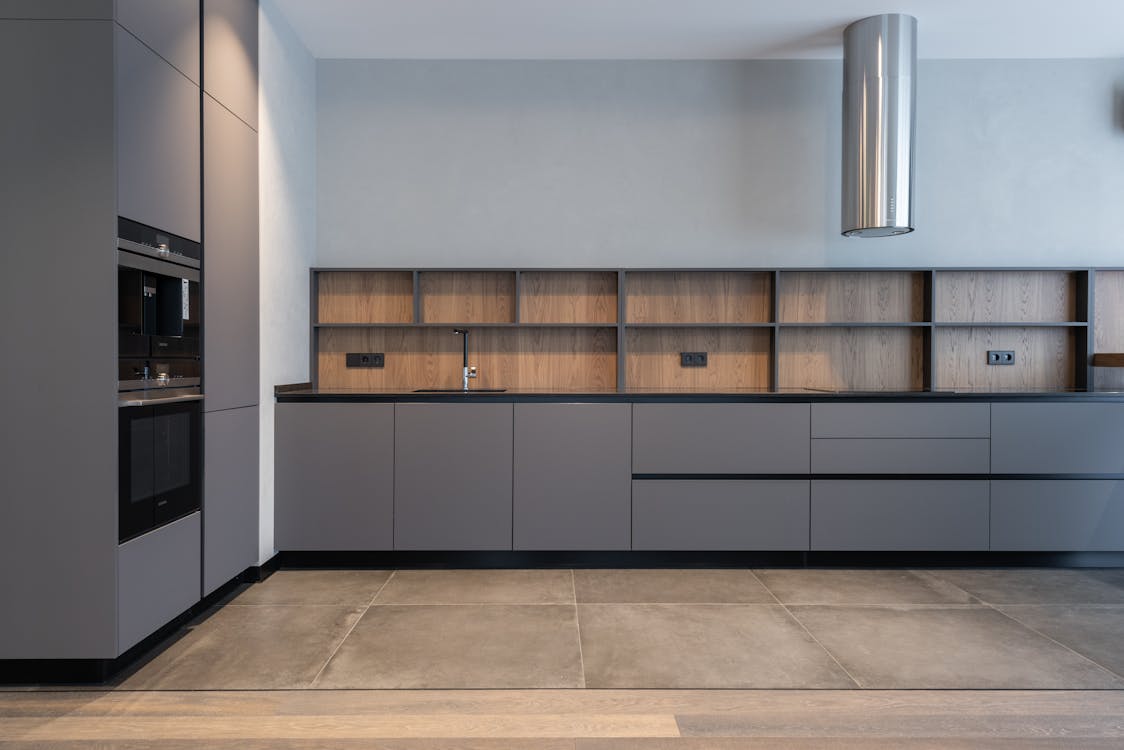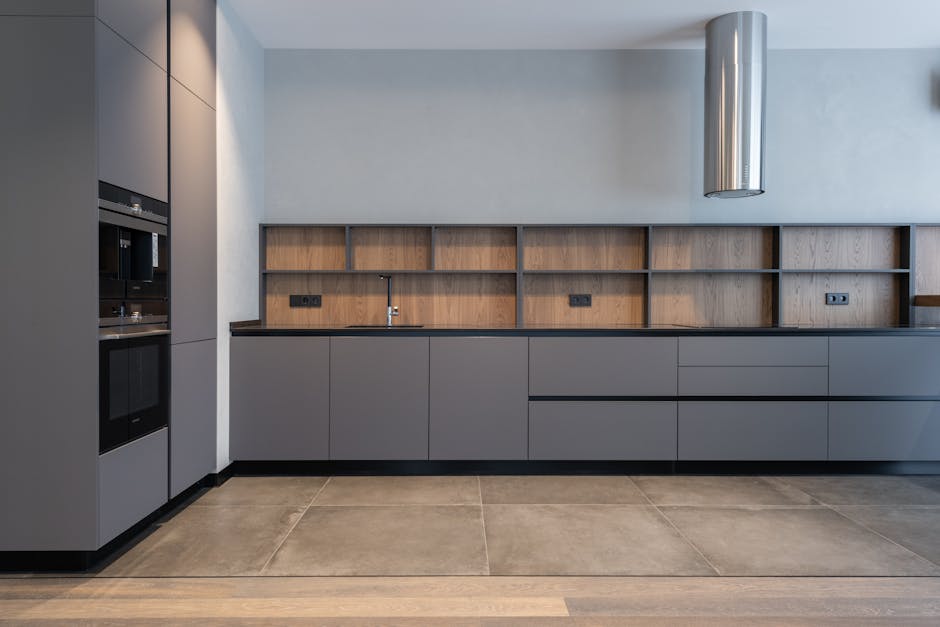 (Source: Pexels.com)
From the classic white and soft grey colors, kitchens nowadays are decorated towards the other end of the colour spectrum. The trend for dark surfaces has emerged as a result of the shift towards two tone kitchens. So whether it is a black kitchen, navy blue, or deep teal, dark kitchen schemes create a refined and atmospheric feel which with the right light looks beyond dim and unwelcoming.
Frequently overlooked as entirely an accent color, black walls, cabinetry and work surfaces are being a kitchen design trend this year. If you pair dark worktops, floors, splashbacks, and/or countertops with lighter furniture and subtle bright color pops, you will surely produce an environment of luxury and sophistication. So whether it is a black, charcoal grey, navy blue, or deep green kitchen, darker kitchen colors will surely aid to produce a sleek and stylish space that the whole family will fall in love into.
5. Handleless Cabinets
Brought about by the need to maximize space paired with the increasing demand for contemporary and minimalist look, the handleless kitchen cabinets is a kitchen design trend in 2021. This once considered niche design feature is all about multitasking and free flowing design creating a more sleek kitchen look. Even not new in kitchen design, handleless cabinets are considered as versatile, accommodating, and timeless.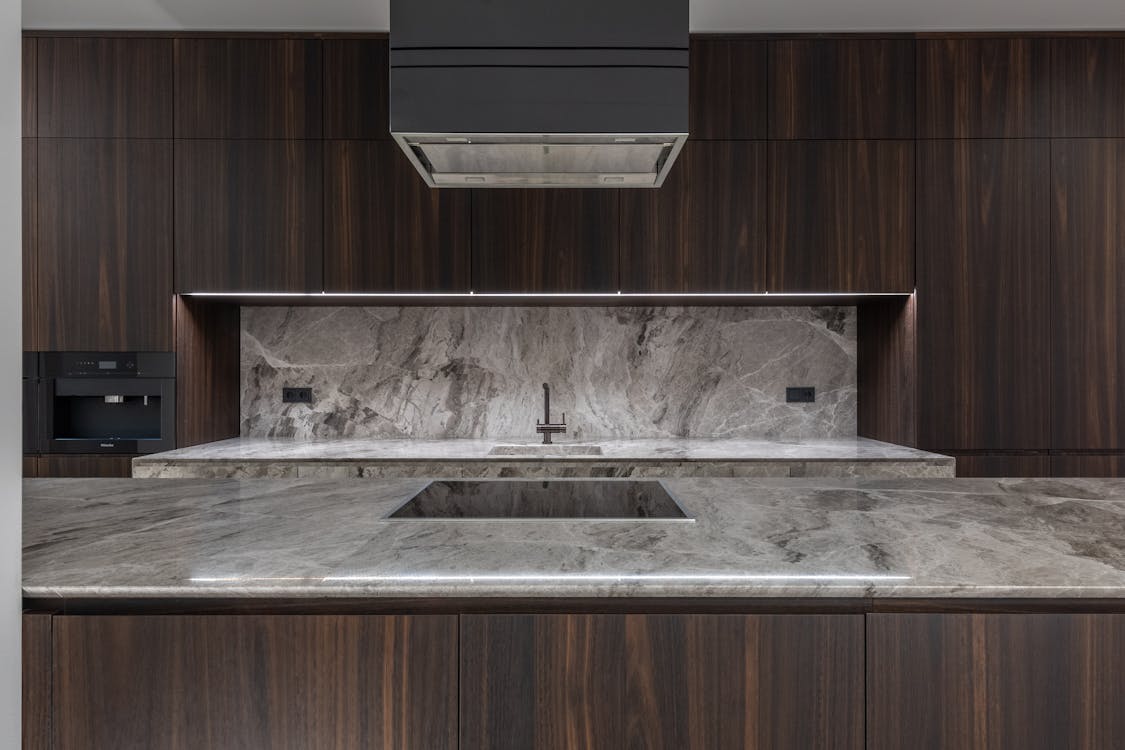 (Source: Pexels.com)
In order to have a handleless cabinet, you can opto to have a push-open door type or you can have a recessed type of handles which also provide a similar sleek look and can be lined with contrasting colors and materials in order to add more interest.
Today more and more people realize that cabinet and drawer handles are a choice rather than a necessity. With that, although contemporary in appearance, this kitchen design is considered as simple yet functional – all characterized by the minimalist and more stream-lined appearance – style for kitchen cabinets. The handleless style can aid in creating a clutter-free look, making it the optimum choice for small kitchens. It also provides more comfort and efficiency when working in the space because it allows you to have a maximum room to maneuver. In the end, this kitchen design is not just for the visual effect of having a more streamlined kitchen but also for a physical effect that allows the family to move more freely in their space. Indeed, the handleless kitchen cabinet is such a beneficial trend this year.
6. Hidden Appliances
Hiding appliances in kitchen cabinets is technically a new trend. For the past years, more and more interior designers are doing this design style in kitchens of their clients. However, in a time when people need to breathe and relax from everything that is happening in the world, to declutter for the sake of our mental health is a must! Hence, this design style is here to stay and is still a trend for 2021.
(Source: Unsplash.com)
Even not new in kitchen design, more people are getting interested in this innovation because today we are more interested in the ergonomics and function of our kitchens. This year many people are integrating their kitchen appliances into their kitchen so that they have a more unified and sleek overall look. Other than that, along with the benefit of having a more clutter-free and streamlined looking space, this innovative solution allows homeowners to move more freely in their kitchens which makes an array of daily activities easier.
Bottomline
Just like everything else in the world, kitchen design also evolves with time. In the post-pandemic era, the things listed here are definitely the trends that we are expecting in kitchen design. With that, if you plan to renovate your space soon, you should definitely consider the things listed here, because we can assure you it will be worth it!
References:
Ebert, J. Homes and Gardens. 2021. Kitchen trends 2021 – 21 latest looks and innovations. Retrieved from: https://www.homesandgardens.com/news/kitchen-trends-202526. Retrieved on 13 February 2021.
Kelly, T. Ideal Home. 2021. Kitchen trends 2021 – the latest kitchen design trends and ideas for the year ahead. Retrieved from: https://www.idealhome.co.uk/kitchen/kitchen-trends-191617. Retrieved on 13 February 2021.
McGuirk, K. Better Homes And Gardens. 2021. Top 2021 Kitchen Trends with Long-Lasting Style. Retrieved from: https://www.bhg.com/kitchen/remodeling/2021-kitchen-trends/. Retrieved on 13 February 2021.
Wicks, L. Veranda. 2020. Top Designers Predict 2021's Biggest Kitchen Design Trends. Retrieved from: https://www.veranda.com/decorating-ideas/g35046179/kitchen-trends-2021/. Retrieved on 13 February 2021.