The Kitchen is known as the heart of the home. It is the place in the house where family and friends usually stay to cook and interact. So it is vital that this area of the home always stays in its utmost style and highest function. Moreso, that with today's modern times, functionality while maintaining aesthetic has been the standard of many things including the kitchen. Hence, in order to have a more functional and aesthetically pleasing home, people do more renovations these days, especially kitchen renovations.
One of the most common kitchen renovations being conducted is customizing the kitchen cabinets in order to repurpose them in a way that is more functional while making sure it does not compromise modern and style. Moreover, if you are one of the people who are fond of cooking, then it is quite satisfying to have kitchen cabinets that organize your kitchen needs and tools well. Having everything you need easy to find and easy to reach makes cooking that much more of a pleasurable experience. With that in mind, this article will talk about the things and ways you can customize your cabinets in order to get the very most out of them, while making sure you achieve that modern style.
Modern Kitchen Cabinet
There are many things to consider when customizing your own kitchen cabinet such as cabinet door profile, cabinet door style, type of wood, type of finish, color, and function. These are just some of the things you must put into consideration when renovating your kitchen in order to achieve that modern kitchen style. Modern design can mean different things to different people, however generally this means that the kitchen cabinet design is less traditional and more contemporary. Modern kitchen cabinets feature flat surfaces, geometric forms, and minimal ornamentation. This means that modern kitchen cabinets are characterized by a more sleek and more angular design with simple doors and frames. Moreover, some modern designs also feature mid century modern furniture that showcases striking angles and curves. Modern kitchen islands can be accentuated with modern kitchen cabinets that have these bold angles and curves while making sure these cabinets maintain modern components that are able to store cookware and dishware. Furthermore, materials that are commonly utilized in modern kitchen cabinets are frequently man-made such as metal, plastic, concrete, and glass. Semi-opaque or frosted glass is definitely a popular look for modern kitchen cabinets. Lastly, modern kitchen cabinets can also be designed with wood veneer or plastic laminate. One can use wood veneer with an exaggerated horizontal grain pattern in order to achieve the characteristic modern look. Mixed materials are also featured in modern kitchen design. In order to elaborate further, here are things you should know when customizing your kitchen cabinets to a modern style:
1 Modern Kitchen Cabinet Design
Flat smooth surfaces, bold geometric forms, sharp lines, and no ornamentation are frequently favored in modern kitchen cabinet designs. There are different modern kitchen cabinet designs however they all directly reflect the design sensibilities and trademark characteristics of modern design that are simplicity and functionality.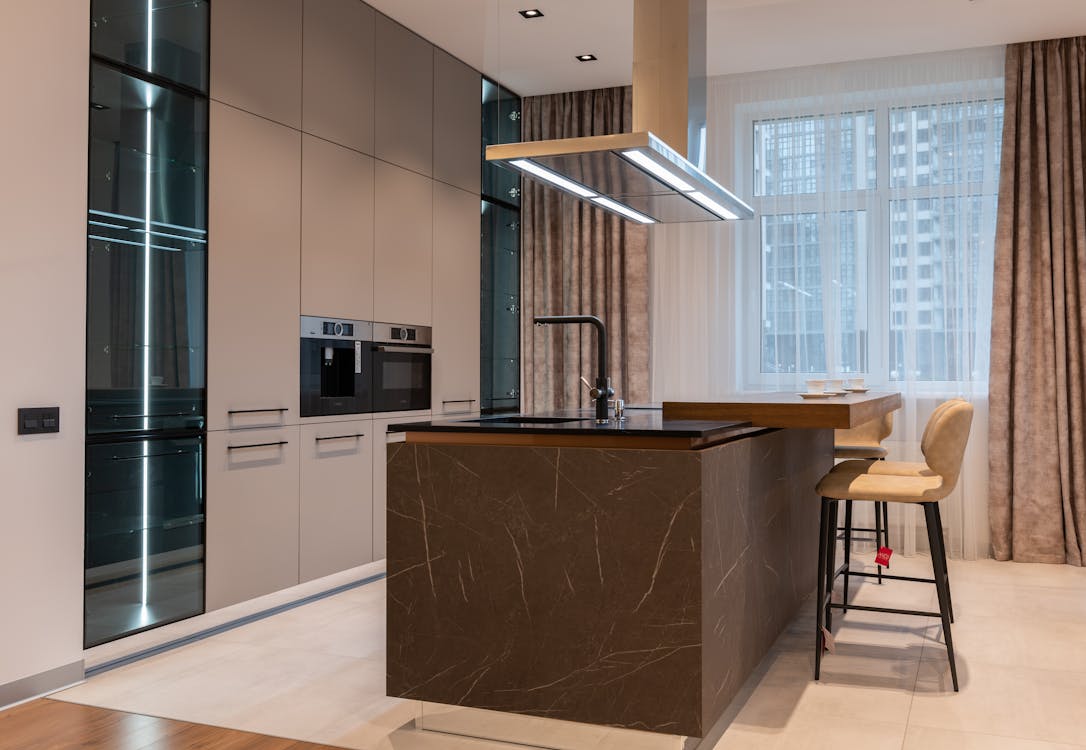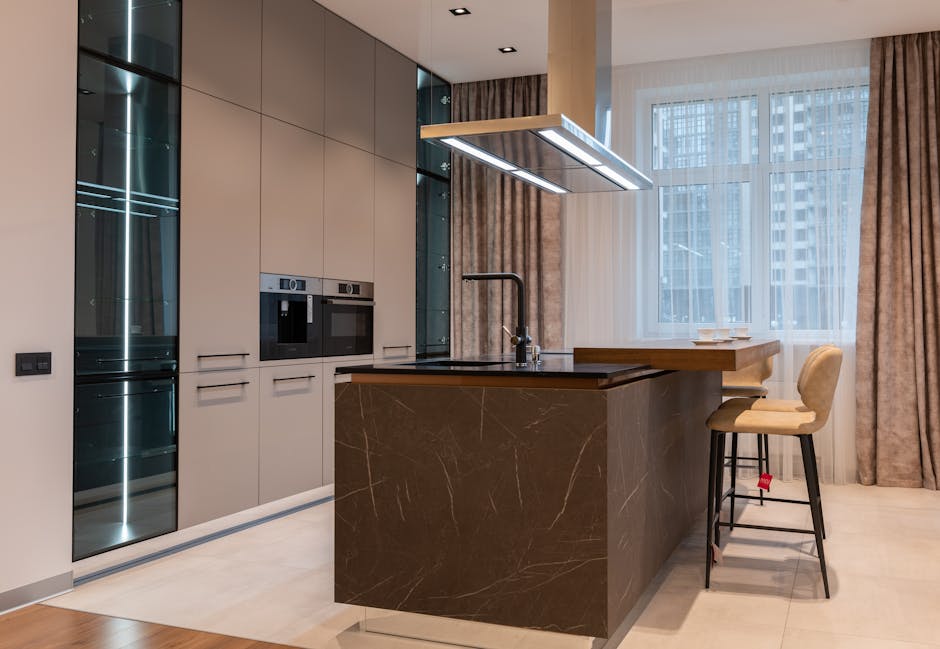 (Source: Pexels.com)
Sharp lines that produce prominent forms are also vital characteristics of modern custom kitchen cabinet design. Horizontal lines are usually specifically emphasized in modern kitchens. This is characteristically featured on cabinet faces, long cabinet hardwares, stacks of cabinet drawers that are lined in rows, a strip tile backsplash accentuating kitchen cabinetry or even horizontal grainings observed on wood cabinets. Lastly, the graining pattern of wood for doors or panels of kitchen cabinets are traditionally oriented in a vertical position. However, in modern kitchen cabinets, it is oriented oppositely and can often be accentuated with grooves in order to match with the horizontal graining pattern of the kitchen cabinets.
2 Modern Kitchen Cabinet Doors
Simple, sleek, and stylish looks are generally the characteristic of modern kitchen cabinet doors. It is often streamlined in form which contains bold angular lines, with no ornamentation, and has a very smooth surface. Hence, with that, you can assume that simplicity is the major feature of modern kitchen cabinets. Unlike traditional kitchen cabinets that focus on ornamentation, the design of modern kitchen cabinet doors are very straightforward. Other than the usage of straight lines, the modern kitchen cabinet doors can also utilize prominent curved lines and angles.
The most common type of cabinet door design that is used in modern kitchen cabinets is flat panel door style or the slab door style. It is characterized by a frameless appearance. This type of kitchen cabinet doors highlights smooth surfaces with no details of intricate carvings, decorative moldings, edgings or raised and inset panels.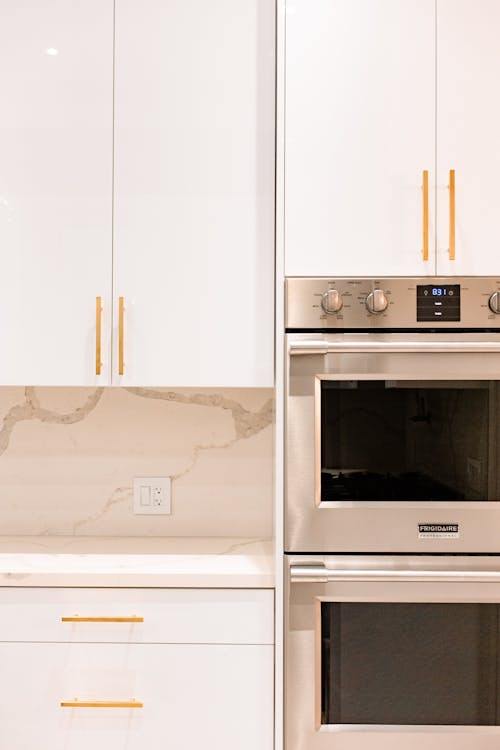 (Source: Pexels.com)
Moreover, Frameless, full overlay type of construction is usually used in the construction of modern kitchen cabinet doors. This means that the cabinet box or carcass are completely overlaid or overlapped by the kitchen cabinet door. This results in a sleeker look compared to the traditional flush inset cabinet. There is also a smooth transition and equal spacing between the cabinet doors and drawers because frameless kitchen cabinets do not show any type of framing between each cabinet door. Lastly, frosted glass doors are also utilized in modern kitchen cabinet doors in order to produce a sleeker aesthetic.
3 Modern Kitchen Cabinet Materials
In traditional kitchen cabinetry, solid wood as the primary material for construction are usually utilized because of its natural finish. However, in modern kitchen cabinetry, natural and manmade materials are frequently used. Wood, MDF, Plastic, glass, and metals like aluminum and stainless steel are typically utilized for the construction of modern kitchen cabinets. Moreover, in order to produce more interesting designs, these modern kitchen cabinet materials are usually mixed with other designs such as frosted glass cabinet doors with an aluminum frame. Modern kitchen cabinets can also utilize wood to produce unique finishes. However, it must be noted that woods with prominent horizontal graining patterns are the most preferred type of wood for modern kitchen cabinets.
4 Modern Kitchen Cabinet Finishes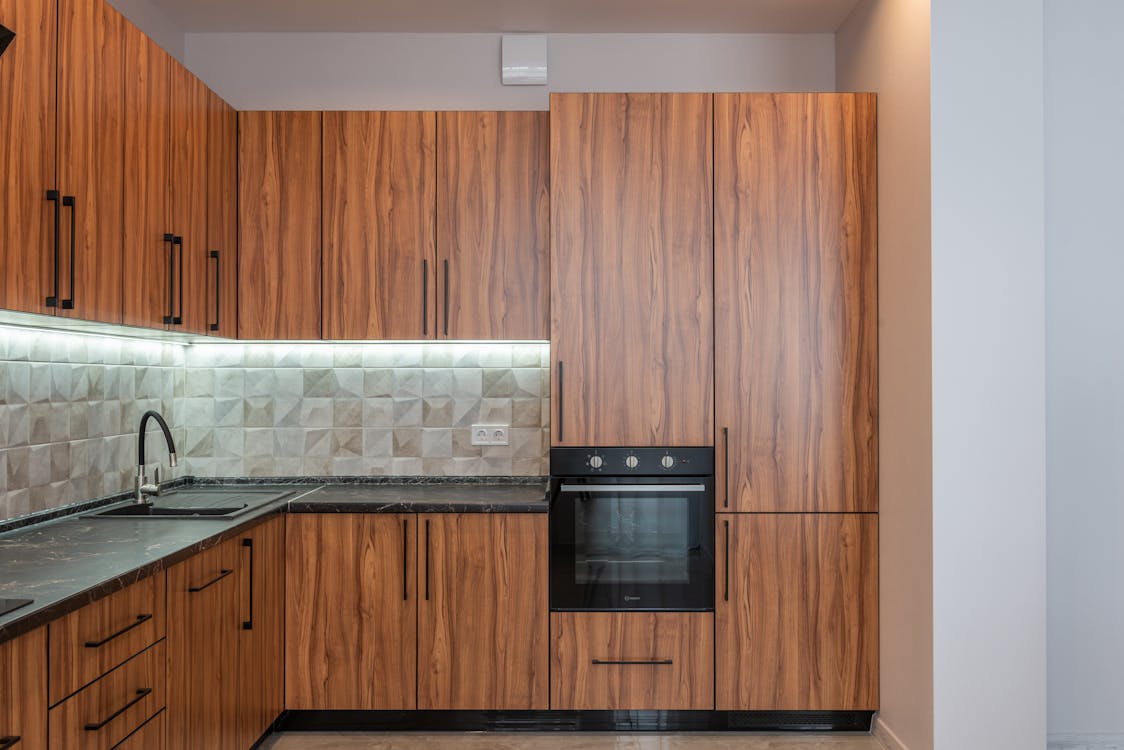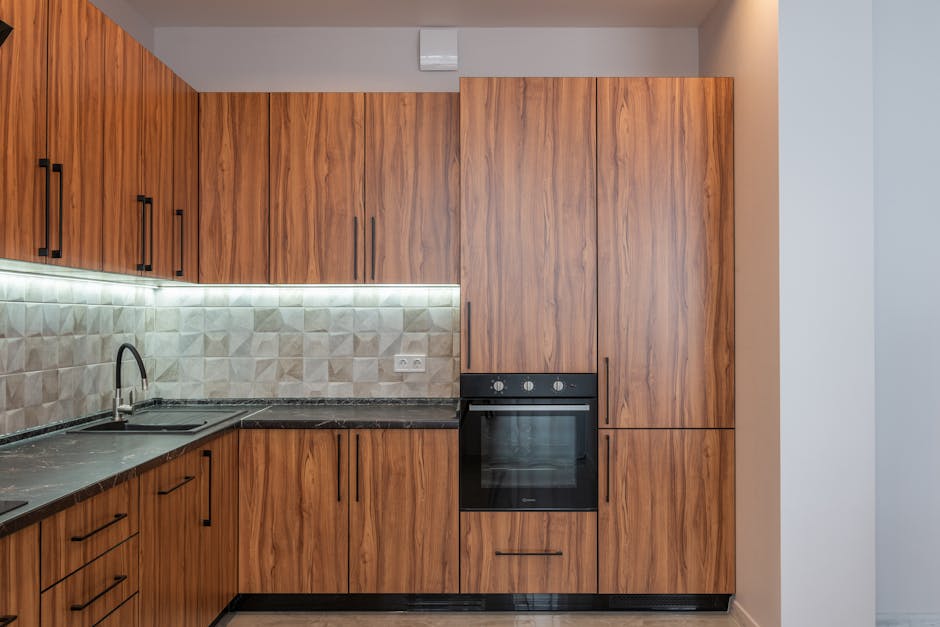 (Source: Pexels.com)
High quality laminates and wood veneers, as shown above, are usually the finishes of modern kitchen cabinets. Modern kitchen cabinets tend to go for a fresher look, a brighter style, and a more up-to-date aesthetic unlike traditional cabinets which go for glazing, distressing or antiquing for a more time worn and old classic look. Moreover, high gloss materials or plain smooth surfaces are frequently utilized as a finish in order to create a very sleek look, modern kitchen cabinets.
5 Modern Kitchen Cabinet Hardware
A sleek hardware is one of the vital features of modern kitchen cabinets. Plain , simple, and clean modern kitchen cabinets are usually the preferred cabinet hardware. It is important that the modern kitchen cabinet hardware is not striking because the essence of modern kitchen cabinet design is to have as minimal embellishment as possible. Hence, modern kitchen cabinet hardware has a more integrated and compact look. Modern kitchen cabinet hardware is frequently flushed to the cabinet door surface. Modern kitchen cabinet hardware can also run the full length of the cabinet doors and drawers to accentuate its lines. More importantly, No decorative details like etchings, motifs or engravings are observed in modern kitchen cabinet hardware. Here are some types and examples of modern kitchen cabinet hardware:
Flat bar pulls – This type of cabinet hardware has square edges and a very prominent angular profile. This is usually used in horizontal drawers or flat panel cabinets and utilized in order to accentuate the angular elements in the kitchen design through the addition of a bold linear feel to the cabinets.
Cut out flat bar pulls – A variation of the flat bar pull that is usually utilized with modern flat panel kitchen cabinets in high gloss finish. It is basically the same with the flat bar pull but only possesses a small rectangular cut out at the center.
Tubular Stainless Steel pulls – This is the classic type of cabinet hardwired and are frequently observed in flat panel cabinets and shaker style kitchen cabinets. They are usually set on a length that is almost the same size as the cabinet or drawer in order to provide a more industrial feel to modern kitchens.
Recessed Pulls – This is usually used when one wants a flat surface for the kitchen cabinetry because recessed pulls are flushed entirely to the cabinet door or drawer face. This type of cabinet hardware is often used for drawers, bypass doors and slab style doors.
Bar Pulls – Another classic type of cabinet hardware that has ends which stick out longer than the part that is screwed to the cabinet face unlike the tubular stainless steel pull which has a flushed end. It works well with flat panel or slab style cabinet doors in order to produce a more sleek appearance.r
6 Modern Kitchen Hardware Finishes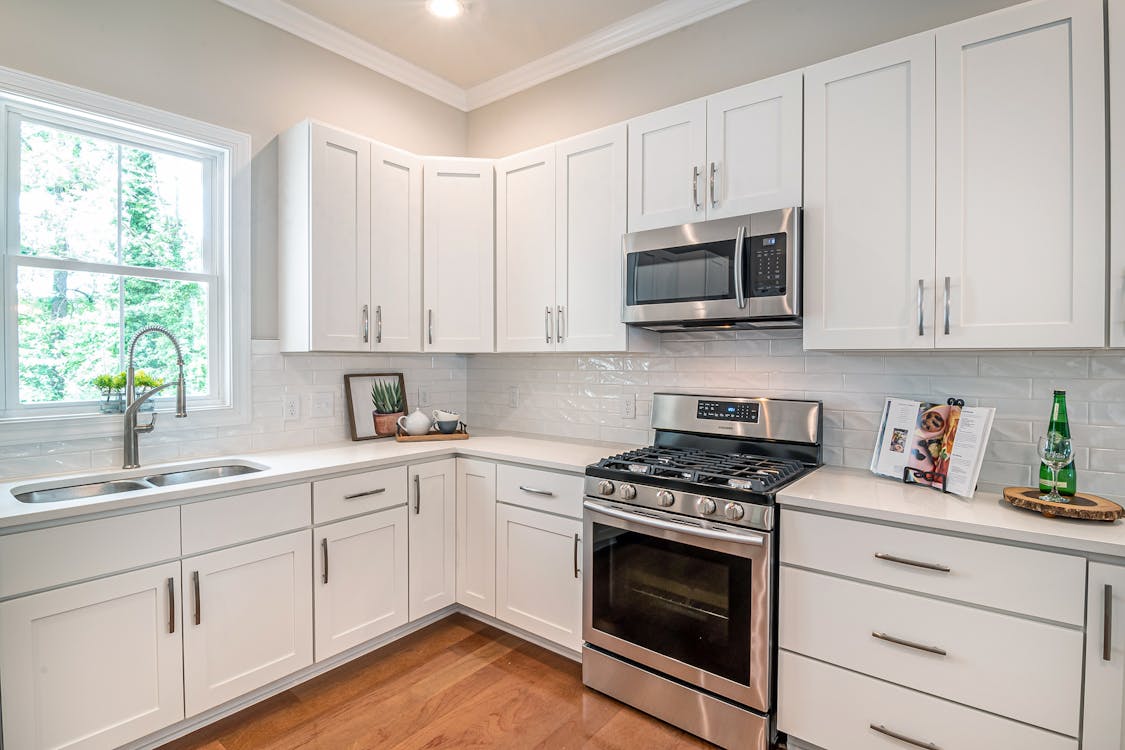 (Source: Pexels.com)
For modern kitchen hardware finishes, a minimalist and sleek appearance are of utmost importance. Hence, small details matter and the proper layering of texture and finishes are highlighted in order to ensure a compact and unified overall look for the kitchen cabinets. Some popular finishes for modern cabinet hardware include stainless steel which is known for its resilience and high durability and very sharp color; silver satin which has a softer look compared to its polished counterparts and a more matte, brushed appearance; brushed nickel which has a more subtle look compared to polished nickel and is characterized by a soft sheen; polished chrome which is characterized by its bright silver color that adds lustrous appeal to kitchen cabinetry; and black finish which offers neutrality yet provides a bold statement in kitchen cabinetry without overpowering all the other design elements in the kitchen.
7 Modern Kitchen Cabinet Colors
The use of minimal colors and textures are one of the characteristics of modern kitchen cabinets. However, it is also good to note that in modern kitchens the cabinet style can also use vibrant shades in order to add more personal style and uniqueness. Furthermore, colors for modern kitchen cabinets lean toward neutrals. However, contrasting tones and bright colors can also be utilized in order to provide a touch of color to the space. Generally, for minimalist modern kitchens, natural hues such as white, black, brown and gray for kitchen cabinets are usually used but bold colors can also be used if you wish to be more adventurous or if you want to liven up the ambiance of a kitchen space. Vibrant hues can aid in creating a bold statement and strong visual interest. However, it is good to note that when using bold colors for modern kitchen cabinetry, just make sure to introduce a neutralizing element to temper the mood of the space.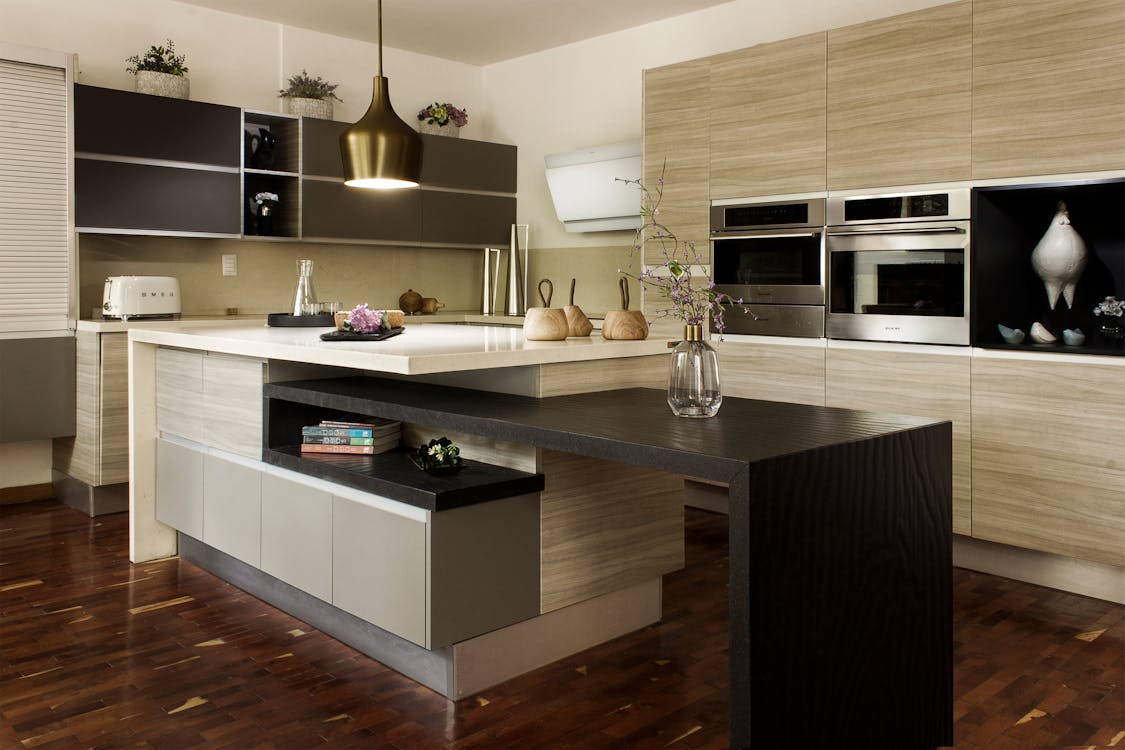 (Source: Pexels.com)
In addition to that, neutral cabinet colors provide flexibility in terms of mixing and matching with the different accessories in the space. It can act as a blank canvas that permits addition of accents in the space such as vibrant appliances or contrasting finishes that can add a personal touch in the kitchen while still maintaining a sleek and compact look. Moreover, in order to add natural coziness and warmth, natural wood and wood veneers can also be utilized.
In summary, renovating the kitchen and customizing the kitchen cabinets in order to be more functional and aesthetically pleasing are currently increasing today. If you are one of the people who are planning to do such activity, it is important to know about the things and ways you can customize your cabinets in order to achieve a modern kitchen style. Hence, with the help of the things stated above, you will surely have a guide on how to achieve your own customized modern kitchen cabinetry that is functional and aesthetically unique.
References:
Decoraid. 2019. The Best Modern Kitchen Cabinets Of 2019 To Inspire. Retrieved from: https://www.decoraid.com/blog/modern-kitchen-cabinets-ideas/. Retrieved on 29 June 2020.
Design Idea. 2020. Modern Kitchen Cabinets (Ultimate Design Guide). Retrieved from: https://designingidea.com/modern-kitchen-cabinets/. Retrieved on 29 June 2020.
Little, S. Freshome. 2020. 10 Amazing Modern Kitchen Cabinet Styles. Retrieved from: https://freshome.com/kitchen/10-amazing-modern-kitchen-cabinet-styles/. Retrieved on 29 June 2020.
McEvoy, S. 2018. Modern Kitchen Cabinets. Retrieved from: https://www.hgtv.com/design/remodel/kitchen-remodel/modern-kitchen-cabinets. Retrieved on 29 June 2020.