Custom kitchen cabinets are one of the best investments you can have in your kitchen. They are not only aesthetically pleasing but they also significantly improve the functionality of your kitchen as a whole. Because they are greatly embraced by people, throughout time, trends on how custom kitchen cabinets are done have changed. From colorful over-the-top patterns and ornate details of the past to a more subtle, minimalist, modern kitchen cabinets of today, custom kitchen cabinetry has indeed turned a different approach. Nonetheless, these changes are truly welcomed by people who love to customize their kitchen cabinets.
With that, it is good to know the custom kitchen cabinet trends from the past up until now, especially if you are planning to do some major renovation in your kitchen soon. Hence, this article will give you a run down of the history and how custom kitchen cabinets changed throughout time.
1900s: The Hoosier Cabinets
In the early 19th century, kitchens were basically just a large open space with some table, sink, and a stove. Pots and utensils were stored in planks of wood that were hung by a rope. The first kitchen cabinet came in the late 1890s and paved the way for all other kitchen cabinetry designs. The first kitchen cabinet was known as the Hoosier Cabinet. This became a staple in the kitchen from 1900-1930. The Hoosier cabinet is a type of cupboard or free-standing kitchen cabinet that also serves as a workstation. It has a small work surface and a shallower upper section on top of the table that was used for storing bowls, pans, and kitchen utensils. It also offers a pull-out workspace or shelf and storage for everything a cook would need. As these cabinets became very popular during that time, many other features were added such as flour sifters, holders for kitchen books, and many more in order to be a fully functionable space.
1940s: Rise of Stainless and Metal Cabinets
(Source: Unsplash.com)
In the 1940s, the once famous Hoosier cabinets were slowly replaced. Kitchen cabinets that were more modular in style rose during this time. The design emphasized materials that were easy to clean and maintain, like metal cabinets, stainless steel counters, and linoleum floors. Moreover, during this time, men were at war. Hence, the main purpose of cabinets was to be used as storage for most women made and sold food to survive on a daily basis.
1950s: Post World War Kitchen Cabinets
After the World War II, the functionality of kitchen cabinets changed. Kitchen cabinets were used more than just storage. When the war was over, there was a significant influx of metal steel. These steels were then used to produce cabinets that included pull out bins, trays, and baskets. Furthermore, during this time, there was an observed interest in having a kitchen that had both upper and lower cabinets.
1960s: Wood Kitchen Cabinets
(Source: Pexels.com)
In the 1960s, wood was highly utilized in making kitchen cabinets. The primary wood that was used was Birch. Furthermore, colorful appliances such as stoves were also observed in most homes during this time. U-shaped kitchen design also became famous in the 1960s. This gave the space the feeling of intimacy without being enclosed by walls. In addition to that, most homeowners preferred this design because it provided them more space for cooking and storage. Lastly, during this time, people would usually paint their kitchen cabinets that had natural wood colors in order to match the color of their kitchen appliances.
1970s: Personalized Kitchen Cabinets
(Source: Unsplash.com)
In the 1970s, kitchens as a whole became a space where homeowners showcase their personal style and character. With that, kitchen cabinets also significantly started to be customized according to the homeowner's liking. During this time, cabinets were usually made of solid woods like oak or of laminate and dark colors for cabinets were also a trend back these days, while countertops were made with plain wood that can be colored according to the homeowner's liking. Furthermore, technology was also starting to advance during this time. One of the best technologies that was added in the kitchen during this era was the microwave.
1980s: Increase in Kitchen Space
In the 1980s, wood and laminate cabinets were the trend. Kitchen cabinets were also light-colored during this time. However, at this time, people did not have any interest in putting any hardware in their kitchen cabinets, hence it was mostly plain.
The biggest change in kitchen design during this era was the space allocated for it. Larger space paired with high ceilings, light colored kitchen cabinets that were made with pale woods, and beams gave the kitchen a more "homey" look and feel. Because of this larger space, there was also more room for kitchen cabinets. In this time, the kitchen became a space for family gathering and hanging out.
1990s: The L-shaped Kitchen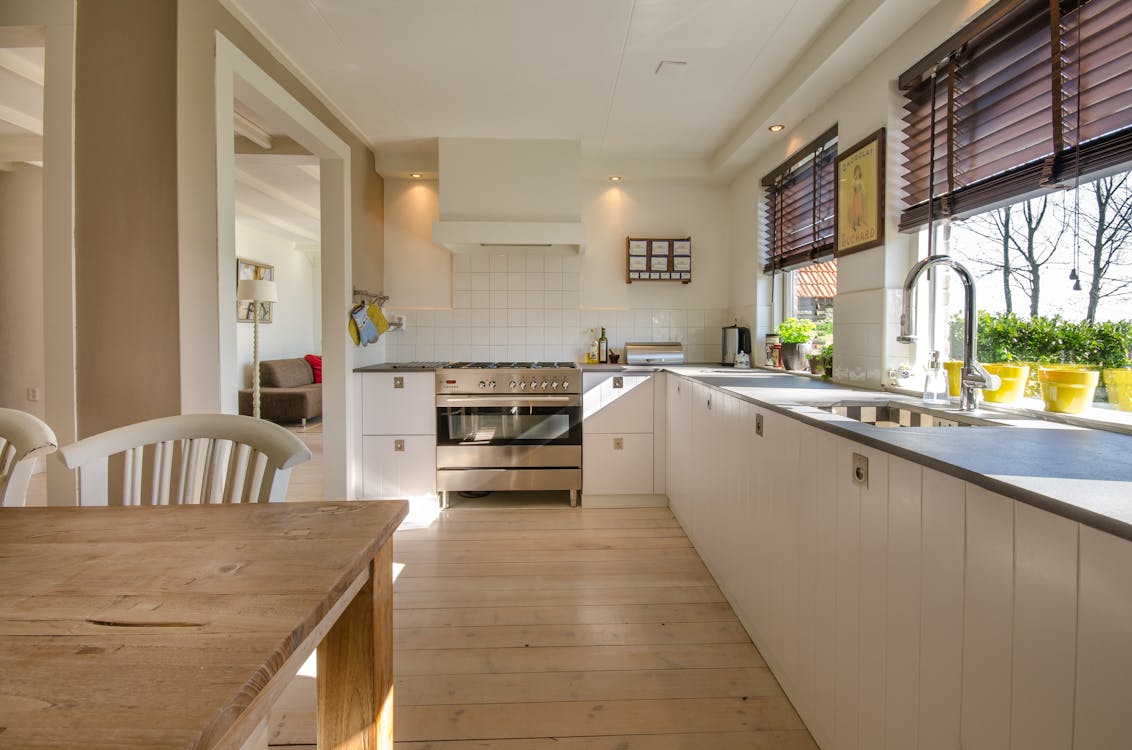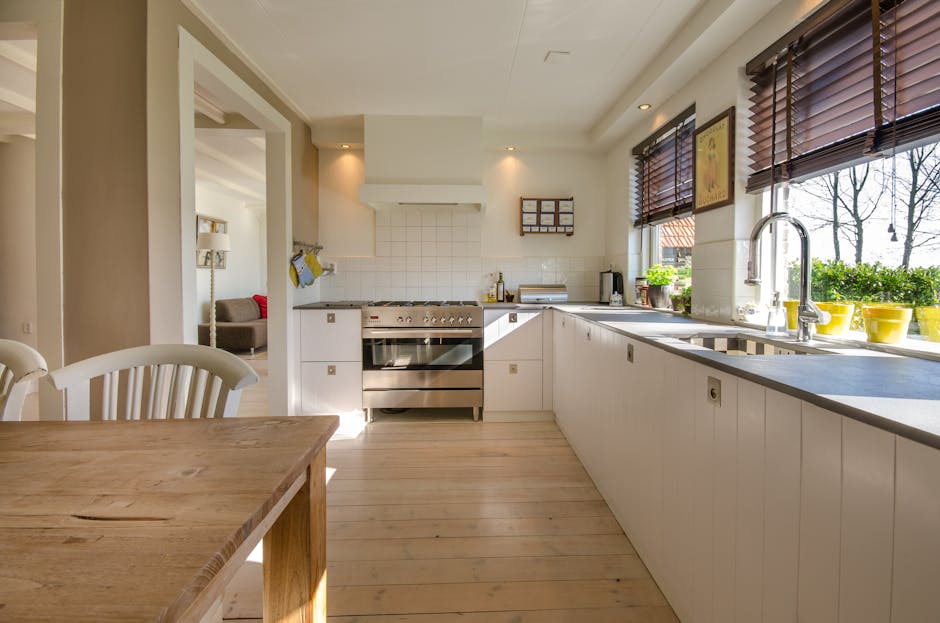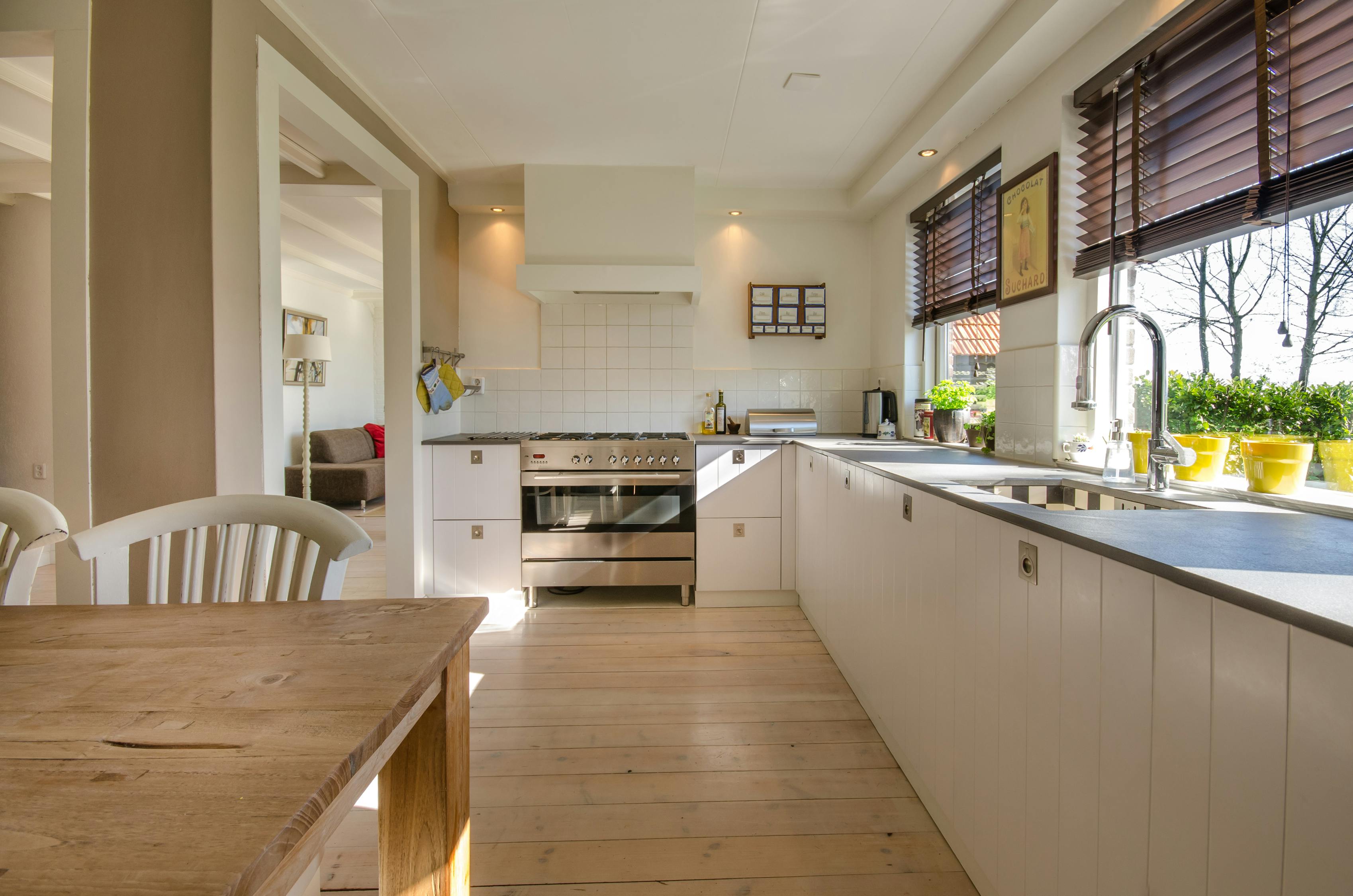 (Source: Pexels.com)
In the 1990s, the L-shaped kitchen design became really popular. Furthemore, more options for kitchen cabinets were also available during this time so homeowners can have their personal touch. As a kid, almost every single friend I had, lived in a house that had an L-shaped kitchen.
Looking back to other decades, kitchen cabinets and the kitchen as a whole were made with laminate, Formica, and wood countertops. However, the '90s brought in more neutral colored kitchens. Most cabinets, as well as countertops, were neutral colors. With that, most homeowners chose a color that was more subdued in the '90s, white, sage, and hunter greens bringing that soothing yet still a statement color. Neutral colors were preferred because it worked with both black and stainless appliances that were famous during that time. Furthermore, in the '90s, high-end homes were all about granite countertops.
2000s: The Open Concept Kitchen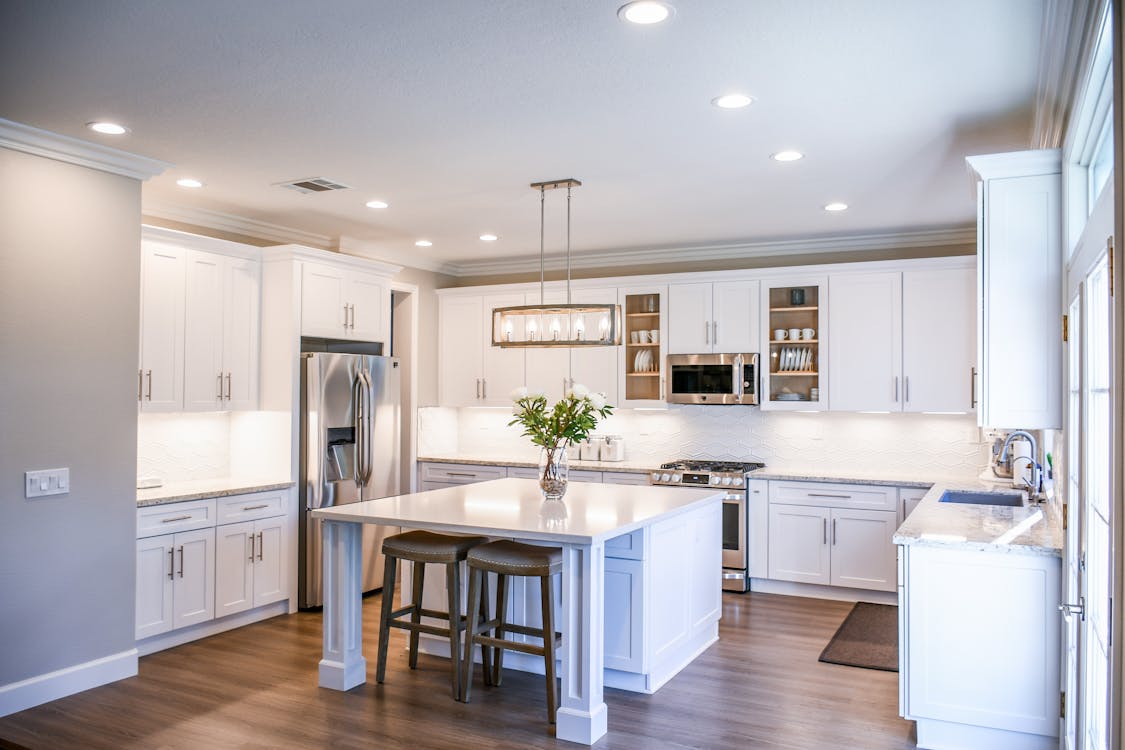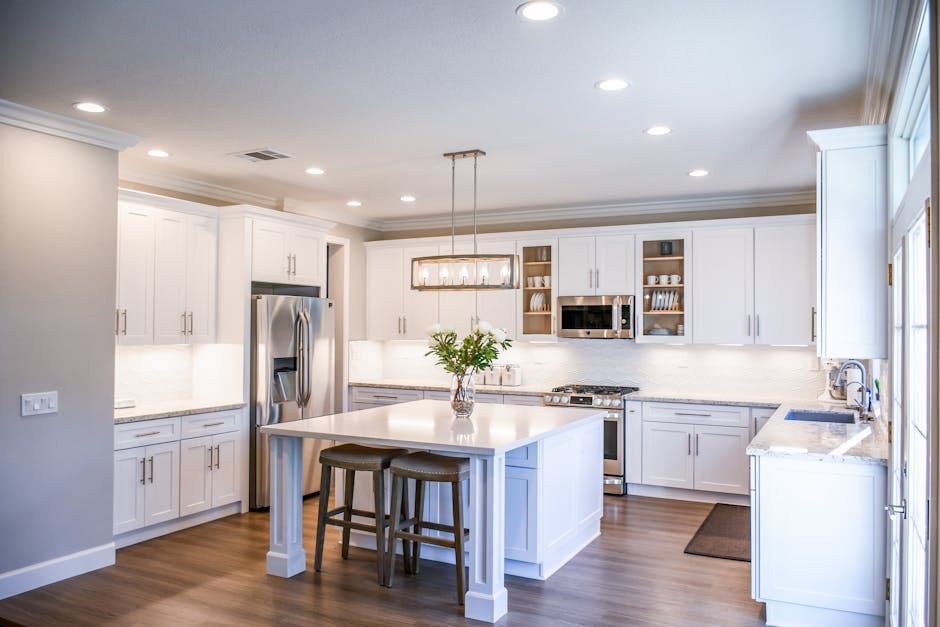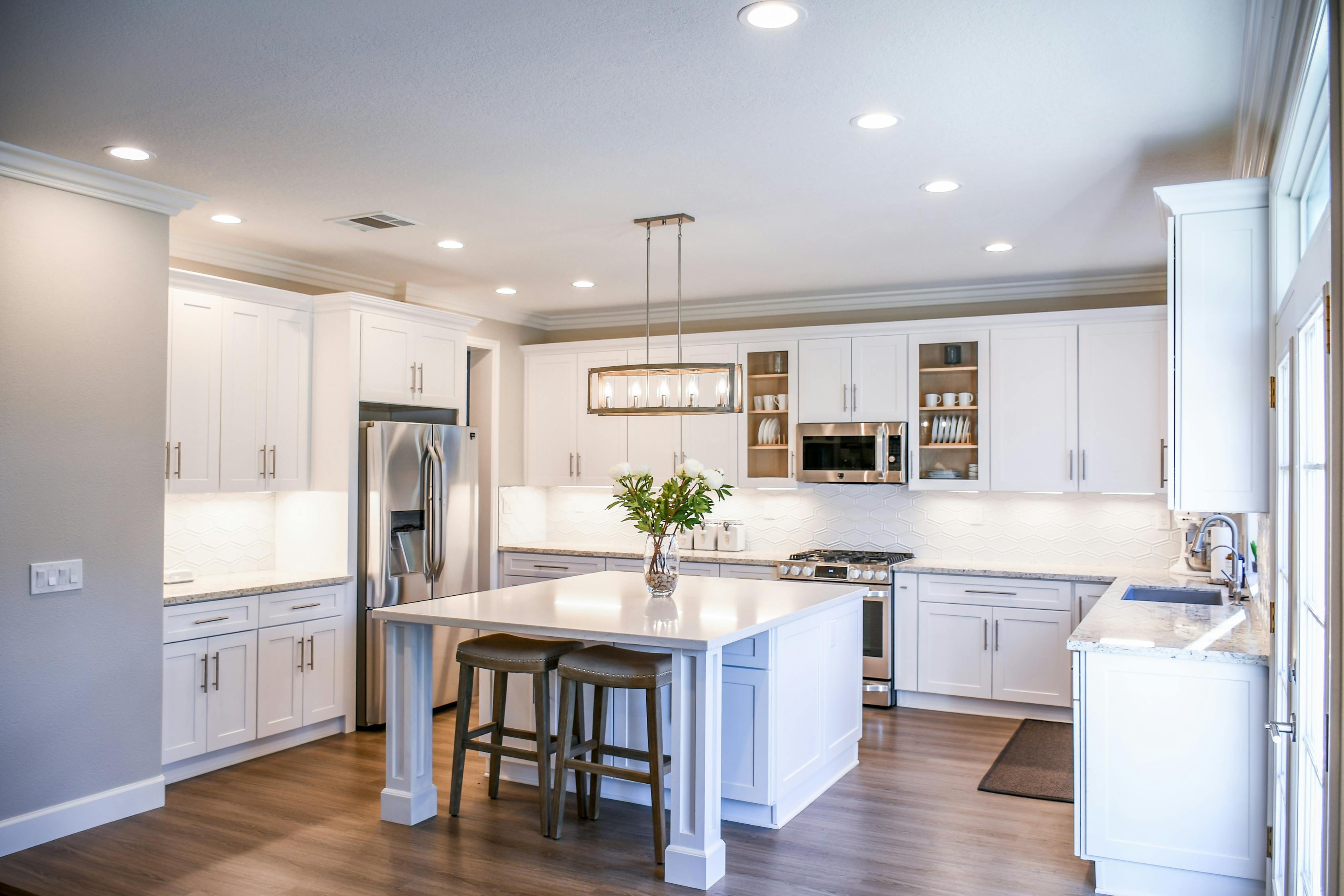 (Source: Pexels.com)
In the 2000s, the open concept design was introduced. This design was not only used for the kitchen but for the home in general too. Large kitchen spaces replaced formal dining rooms. These open large kitchen spaces opened up for more family and friends to gather around the area. Furthermore, during these times, maple and cherry grew extremely popular. These wood options, in particular, were a popular option because of the popularity of stainless steel appliances. In the 2000s, more kitchen cabinets were placed because of the large and open space kitchen design. In addition to that, due to their sleek and timeless look, shaker cabinets were also increasingly famous during this time. Furthermore, Kitchens have all but abandoned bright and pastel colors, with the exception of beige. During this time, white was the popular choice for cabinets because it makes the kitchen look cleaner, brighter, and more inviting.
2010s to Present: The Modern Kitchen and Kitchen Cabinets
(Source: Unsplash.com)
In the present, kitchen cabinets and kitchen as a whole are not only made for its function but also for its aesthetic because today the kitchen is a conversation piece in a home. Kitchen is now highly utilized not only for eating but also for gathering, working, doing other stuff. With that, it is no surprise that in recent years kitchens are built for functionality, practicality, and for comfort.
In most modern kitchens, white cabinets, marble counters, and reclaimed wood floors are the staple. Modern-day trends are giving cabinets a new life. Although traditional cabinets are still popular, open frame and transitional cabinets are now popular styles to help homeowners make their kitchens unique to their own personal style. Moreover, kitchen cabinets are still made primarily of wood material, but many of the modern-day cabinets that you see today no longer utilizes the natural wood color. Even if there are still those that prefer to have accent colors in their kitchen, today, one can see the emergence of darker cabinets or premium white ones, paired with hidden smart appliances that significantly increases the functionality and efficacy of the kitchen.
Bottomline
The kitchen and kitchen cabinets have truly changed throughout the years. The trend has changed in accordance to the demand and standards of people. We do not know what trend will be coming out in the next few years in kitchen design. But one thing is for sure, no matter what it is, as long as you invest in a kitchen and kitchen cabinets that fit you and your family's lifestyle, the kitchen will always be functionable and the heart of your home.
References:
Bath Plus Kitchen. 2020. Kitchens Through The Decades. Retrieved from: https://www.bathpluskitchen.com/blog/kitchens-through-the-decades/. Retrieved on 3 February 2020.
House beauty. 2016. 100 Years of the American Kitchen. Retrieved from: https://www.housebeautiful.com/room-decorating/kitchens/g3943/100-years-kitchen/?slide=34. Retrieved on 3 February 2020.
Life As A Human. 2019. The Evolution of Kitchen Cabinets. Retrieved from: https://lifeasahuman.com/2019/home-living/the-evolution-of-kitchen-cabinets/. Retrieved on 3 February 2020.