With today's fast evolving technology and economy, people tend to be overloaded with several tasks with only 24 hours to utilize each day. Hence, functionality over anything else has been an increasing demand in the modern times. Whether it may be in personal gadgets, or transportation related products, or even in home appliances and furnitures. People tend to be more inclined in buying products that can save money but more importantly – time. 
As people want to save more time in order to become more productive each day, there has been an increased activity in home renovations. One of them is renovating the kitchen to become more functional and aesthetically pleasing to homeowners. One of the most requested by homeowners is customizing their own kitchen cabinets and repurposing them in such a way that there is easier access to everything while maintaining its stylish and alluring ambiance. 
Renovating your kitchen cabinets can be done through choosing between three categories: Stock, Semi-custom, and Custom:
1.     STOCK
Stock cabinets are ready made and pre-manufactured kitchen cabinets. It means that companies producing them have mass produced them already in their factories and are ready to be shipped once ordered by buyers. With that, no customization is available. However, they come in standard sizes and can be an economical choice because they can be delivered and installed significantly quicker than customizing your own but the selection of styles, shapes, colors, wood type, and sizes are limited. The standard width of stock cabinets start at 9" with 3" increments to 48". The standard depths are at 12" for wall cabinets, 24" for oven, base, and utility cabinets.
Cost: Stock cabinets are the most affordable option available to homeowners at $100 to $300 per linear foot installed, or $50 to $100 per linear foot for cabinets alone. Stock or builder's-grade construction comes with fewer design options, but costs considerably less than semi-custom and custom alternatives.
2.     SEMI-CUSTOM
Semi-custom kitchen cabinets, unlike stock cabinets, are not built until order is received. However, it is similar to stock cabinets but customers are given a variety of configuration choices and options that can be followed according to their preference. The basic cabinetry sizes still apply however buyers have the freedom to change certain features such as resizing the cabinet drawer and door fronts, changing the cabinet depth, matching interior or extended styles. However, even if some companies allow these options, they must still follow a pre-set catalogue. Others find this option good because they are given the opportunity to put in their inputs without having the cost of full-on cabinets. The standard width of Semi-custom kitchen cabinets start at 9" with 1" increments to 48". The standard depth can be reduced or increased according to the company provider's set of guidelines and rules.
Cost: If you have a larger budget or need custom sizing or aesthetics, semi-custom designs offer a wider variety of options at $150 to $650 per linear foot installed. The materials alone cost $75 to $400 per linear foot, or $150 or more per unit. Semi-stock is perfect for homeowners looking for unique, long-lasting types without the hefty price of custom designs.
3.     CUSTOM
Custom Kitchen Cabinets are built according to your own specifications so they can practically be anything you want it to be. These cabinets are frequently constructed by local cabinet shops which can effectively produce all things needed in your kitchen cabinets such as drawers, boxes, frames, doors, and the likes. You can also start with a standard size cabinet and add on the details and features that you want. Because custom kitchen cabinets are the most flexible and customer-specific option, the costs are usually higher than the standard ones. However, the costs are nothing if you get the functionality and aesthetic that you are aiming for. More than that, you have the full freedom to decide on what to do while cabinet makers make sure that you optimize the space you have. The standard width and standard depth are both customizable.
Cost: Custom cabinets cost $500 to $1,200 per linear foot installed. Materials make up between $300 and $750 per linear foot. They're perfect for oddly-shaped kitchens or specific design and functionality needs. While custom installs meet your exact specifications, you can expect a substantial cost increase.
BENEFITS OF CUSTOM BUILT KITCHEN CABINETS
Now that you have been presented with the different categories of kitchen cabinets, here are some of the reasons why you should choose to custom build your own kitchen cabinets at home:
1.     Wide Options to choose from
With the obvious fact that you have the freedom to choose your own dimensions starting from the standard guidelines of kitchen cabinets, it offers you a range of options you can choose from. Custom cabinetry is limitless, from wood type to cabinets and sizes, to the cabinet colors, and the likes. Everything can be built perfectly accustomed to your lifestyle and space. More than that, you will feel more at home in your own kitchen because they are made according to your personality – the things you like and love put into one space.
2.     High Quality Materials
Unlike stock or semi-custom cabinetry, custom kitchen cabinets are handcrafted. This means that all the details, materials, and finishes are guaranteed to be of high quality uniquely made for the consumer. More than its aesthetic designs, custom kitchen cabinetry gives importance to the quality of the materials used in order for it to last long so that buyers can make best use out of it.
3.     Maximization of Space
One of the best things in custom kitchen cabinetry is that it uses your available space to make functional and customized kitchen cabinets. Hence, you do not have to worry if you have a small or a wide spaced kitchen because  all areas can be used in the best possible way without wasting space or limiting your design in this way a more functional daily use of the kitchen can be achieved.
4.     High Functionality
As mentioned, functionality is one of the strongest reasons why you should have your kitchen cabinets custom built. Maximization of space as previously mentioned, with doors, interiors, drawers, and other styles adjusted to your storage needs are vital elements in having a functional kitchen. More than that, the cabinetry can be adjusted to your height so that you won't have problems in reaching things under or above the cabinets. Lighting fixtures incorporated can be of great value especially if you are cooking at night. Just having the right functional kitchen cabinets can save you a lot of time because you do not have to spend so much time thinking where to put things and where to store them.
5.     Long Term Value
Custom kitchen cabinetry is actually a good investment. Because of the high quality, unique design, maximization of space, and functionality of a custom built kitchen, it increases the market value of your house. So if you are planning to sell your property in the future, it will make a huge difference in its value.
            Now that you have been presented with the different benefits of having custom kitchen cabinetry. A rundown of some of the cabinet materials, cabinet construction, and cabinet finishes available in the market will be discussed further.
CUSTOM CABINET MATERIAL CHOICES
Most traditional custom kitchen cabinets are made from wood and they are still widely used up until this day for the very reason that they are rigid and stable and last for a very long time. However, due to modern technology, other materials are already available that can be assembled for your customized kitchen cabinetry. Here's a list of materials you can choose from:
1.    HARDWOOD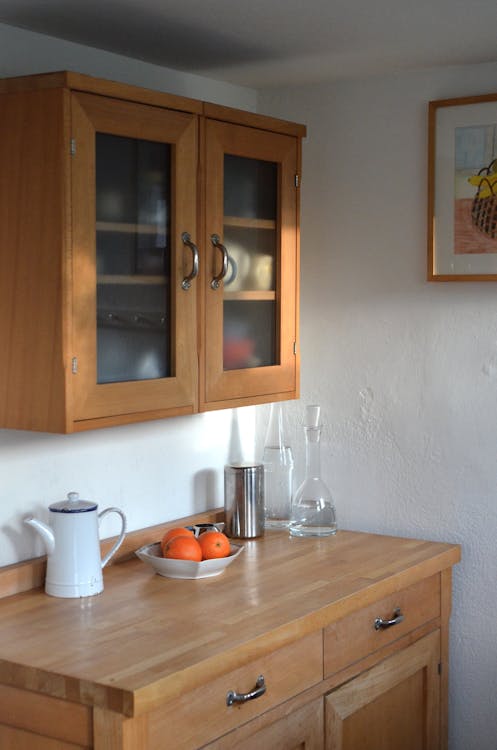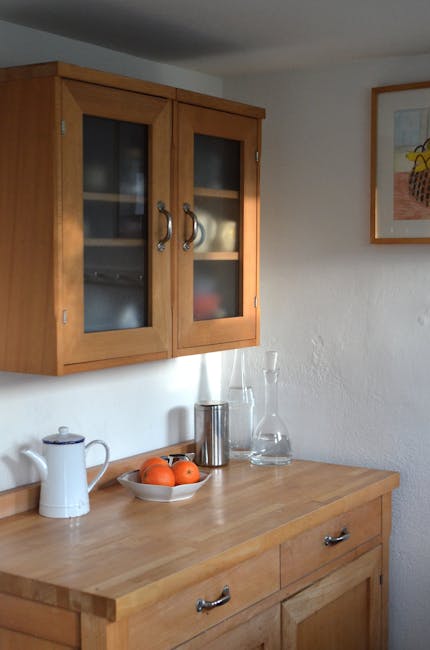 (Source: Pexels.com)
Hardwood is one of the most commonly used materials in custom kitchen cabinetry. Because it is a natural wood product, each piece of wood has a unique color texture, and grain pattern. However because of this, it adds an aesthetic value to the material. More than that, because it is natural it has a very long life span and it is very durable. In order to increase lifespan of hardwood, one usually sands and refinishes scratches, dents, or water marks. Hardwood is not usually utilized to build the entire cabinet because it is expensive and it can contract and expand depending on room temperature and humidity. Hence, it is only used for face frames, the door, and drawer fronts. Hardwoods that are usually available in the market are: Maple wood, Oak Wood, Alder Wood, Hickory Wood, Birch Wood, Walnut Wood and Pecan Wood.
2.     PLYWOOD
Plywood is created by laminating thin layers of wood on top of each other at alternating right angles and binding them through a mix of glue, heat, and pressure in order to produce strength and durability. Plywood has the highest strength-to-weight ratio of all cabinet building materials. It resists moisture, is very flexible and durable and easy to use and assemble. It is also easily repairable and replaceable if there are holes or damages in the cabinet. More than that, plywood is highly accessible in the market with an affordable price range. It is much less expensive than hardwood.
3.     PARTICLEBOARD
Particleboard, also known as Low-density fiberboard (LDF) or Chipboard, is an ergonomically designed wood product made by pressing together recycled wood chips and sawmill shavings and forming them into sheets. Once made into sheets, it is sealed in with laminate or a wood veneer to give it a more aesthetically finished product. It is inexpensive and one of the most affordable cabinet material types available in the market. Even if it is made from wood recycles, it is very durable, rigid, and sturdy. It is usually suggested for cabinets and interior drawers because it is lightweight, cost effective, and easy to adjust to fit into spaces.
4.     MEDIUM DENSITY FIBERBOARD (MDF)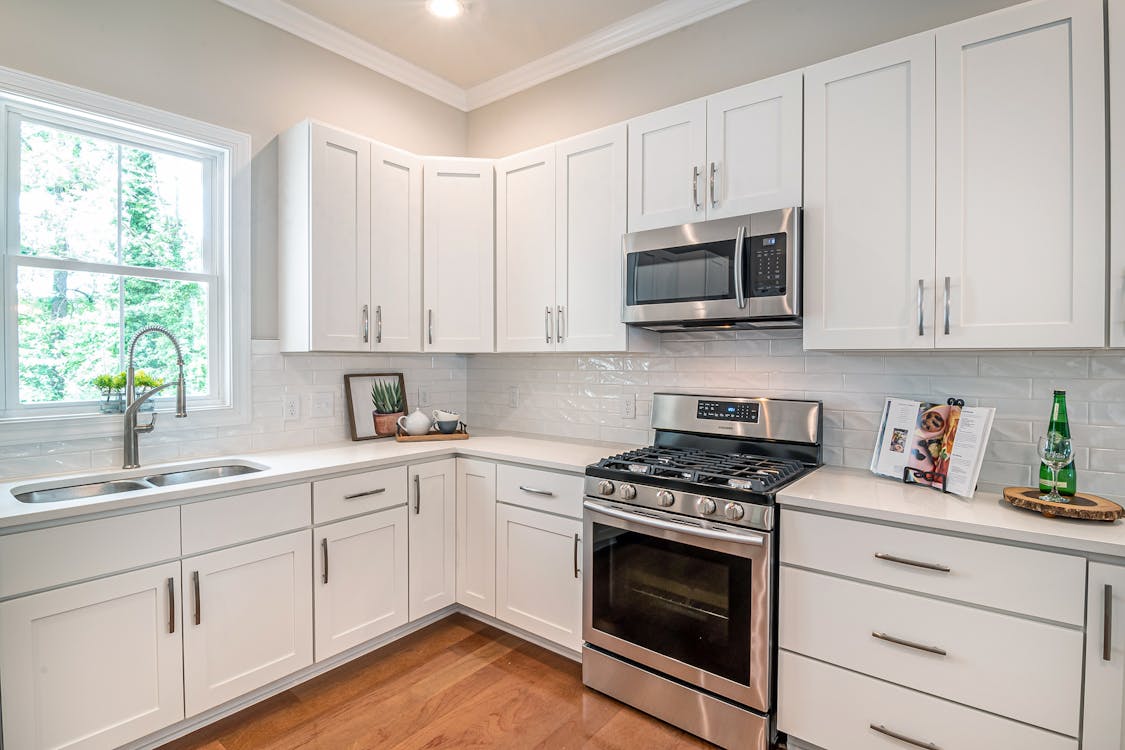 (Source: Pexels.com)
Medium-density fiberboard has a quality between a Plywood and a Particleboard which is a great option for your drawers and doors. MDF is made from recycled fibers, resin and wax, all of which are pressed together and sealed in a high pressure system. Because of this, MDF is more durable and stronger. It is resistant to warping and expansion due to temperature or humidity changes. It is easy to be painted because it has a smooth finish. It also offers superior screw-holding power and can be easily manipulated.
5.     WOOD VENEER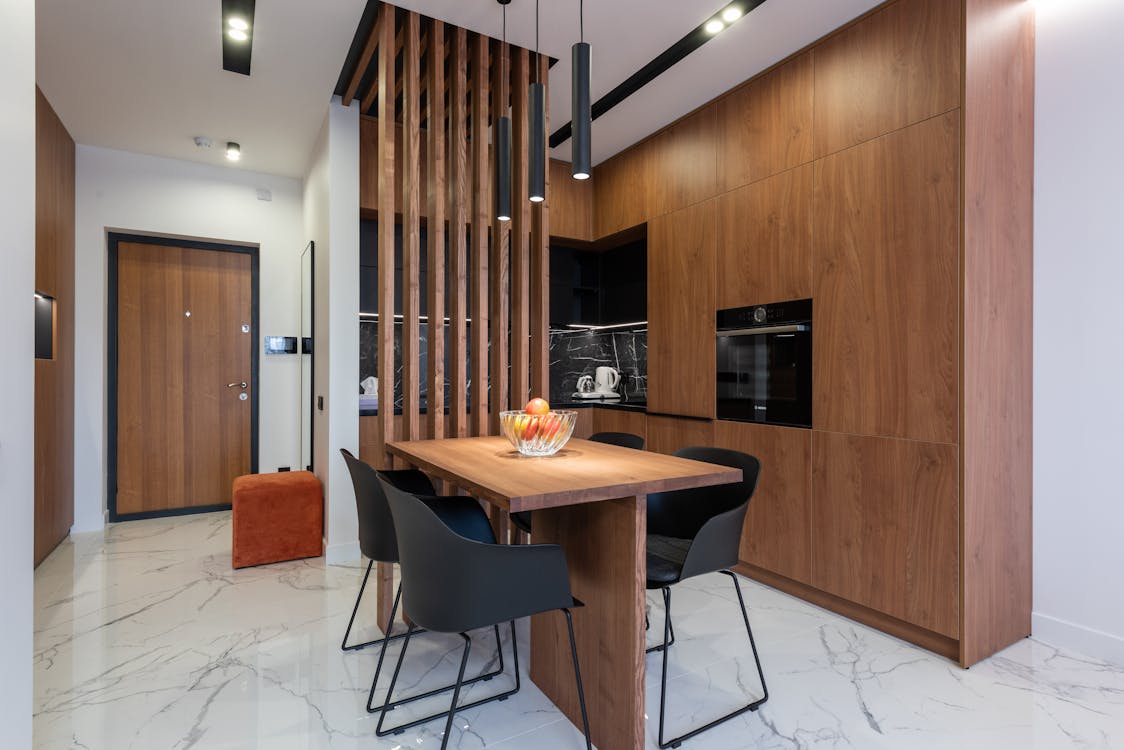 (Source: Pexels.com)
Wood Veneer is a very thin layer (2mm thick) of solid hardwood peeled from a log. This material has the same benefits as to a hardwood but has smaller amounts of wood in it. It is an affordable variation of a true hardwood. It is usually pressed or glued in combination to other materials such as particleboard or MDF in order to produce flat panels. Hence, it has aesthetic benefits while making sure it is rigid and durable. It is usually suggested to be utilized over other top finishes since it is lightweight yet very stable.
6.     LAMINATE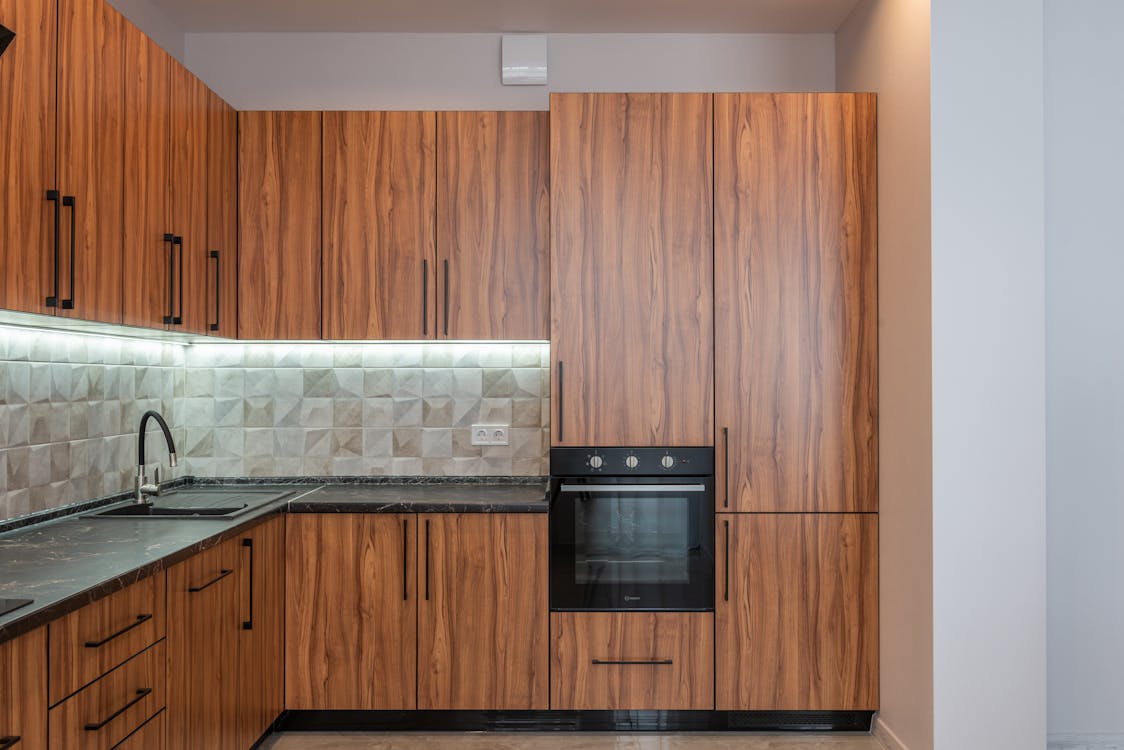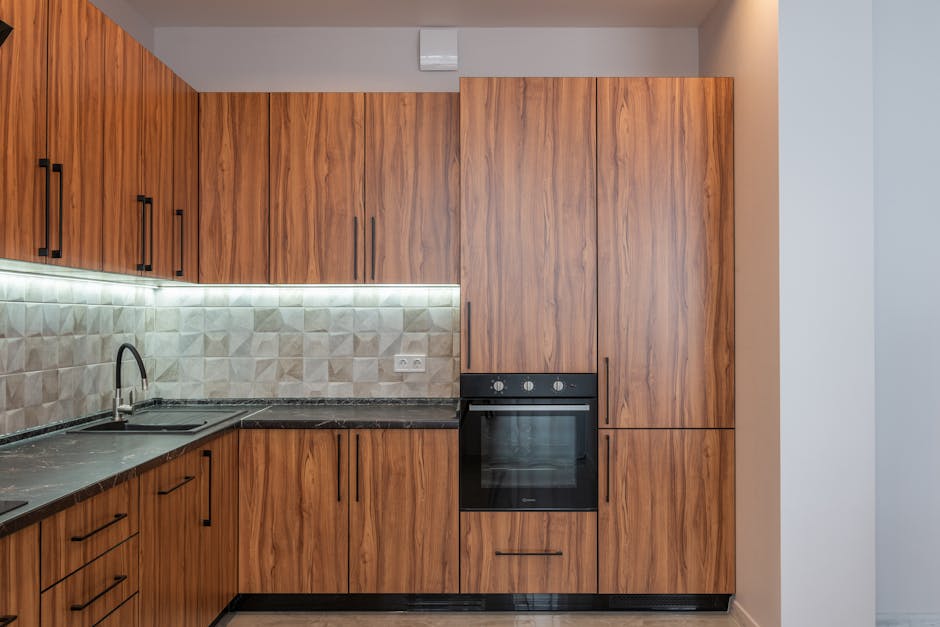 (Source: Pexels.com)
Laminates is an affordable material abundant in the market that can be easily utilized in the kitchen for floors, counters, or cabinets. It is made of three resin-saturated layers: (1) a base layer of paper; (2) a printed and colored layer which looks like wood; and (3) a protective transparent layer. These three are pressed together to create a rigid and durable cabinet alternative material. It can be used to cover kitchen cabinet doors and drawers and even interior surfaces. However, they are not usually used for interior shelves and drawers of kitchen cabinets. If high quality goods are bought, they can stand for a long time but the cheaper types have a higher risk of cracking and chipping after some time.
7.     THERMOFOIL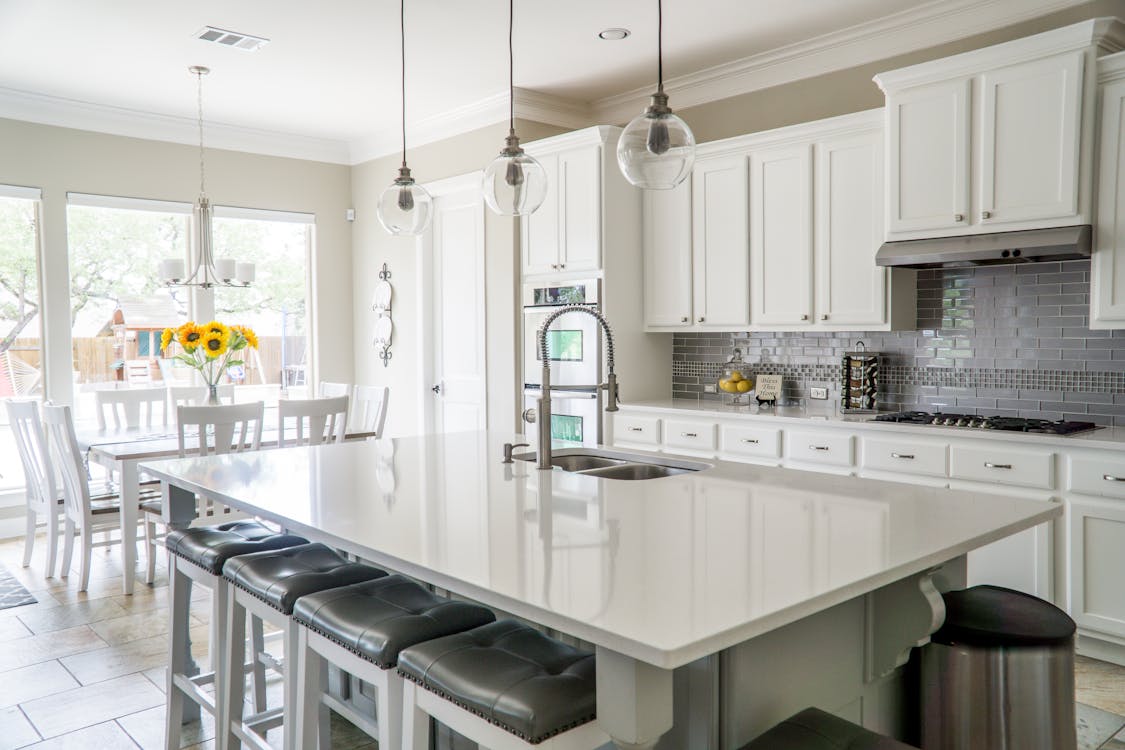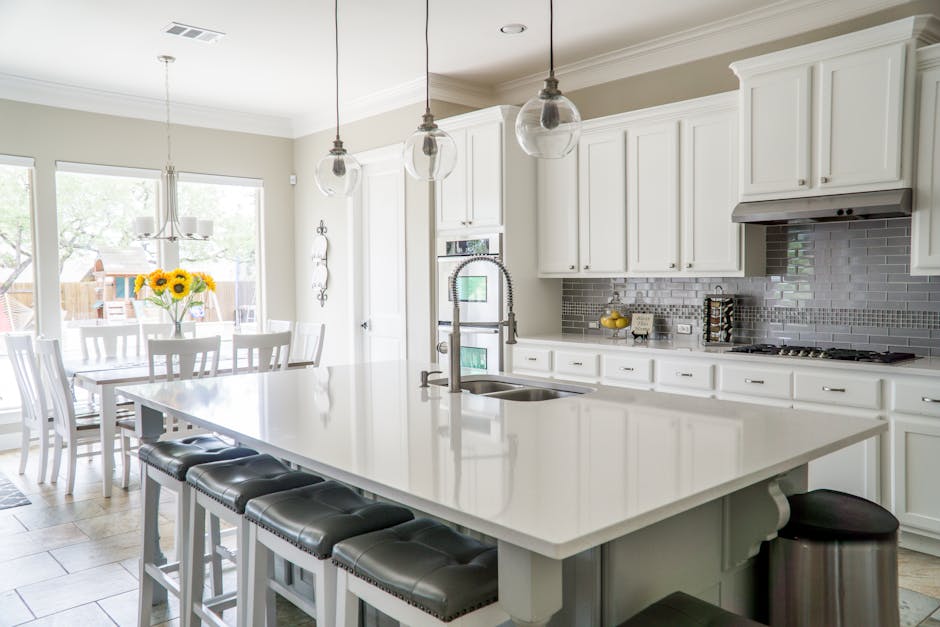 (Source: Pexels.com)
Creating Thermofoil involves the application of a vinyl film to a substrate similar to laminate. This is a non-wood option for kitchen cabinets. It resembles aesthetically wood rather than laminate at a reasonable price. Thermofoil finishes are most commonly white or light in color and thus can easily be painted if desired. More importantly, they are durable and less prone to damage compared to laminate. They are relatively cheap and available in the Market.
New Kitchen Cabinet Cost Calculator by Material
It's important to also consider the mass appeal of your materials. Exotic designs and materials could potentially hurt the resale value of your home. The materials you choose depend on your budget and design. Here's a breakdown of the most popular materials:
| | |
| --- | --- |
| Material | Cost |
| Hardwood | $5,000 – $25,000+ |
| Plywood | $7,000 – $12,000 |
| Particleboard | $500 – $1500 |
| Medium Density Fiberboard | $100 – $280 per linear square foot, the thicker the fiberboard, the higher the price |
| Wood Veneer | $2,000 – $15,000+ |
| Laminate | $4,000 – $15,000 |
| Thermofoil | $300 to $350 per linear foot |
CUSTOM CABINET CONSTRUCTIONS
A.     CABINET CARCASS
The cabinet carcass or the main framework or body of the cabinet can be categorized into two: Framed and Frameless.
FRAMED – this type of cabinet carcass are the traditional types of kitchen cabinets constructed using face frames which usually consist of narrow strips of hardwood framing the cabinet box opening. The advantage of a framed kitchen cabinet is that it ensures rigidity while making sure it provides multiple mounting points for hinges.
FRAMELESS – Also known as full-access, this kitchen cabinet type provides better use of space than a framed cabinet. This type of cabinet carcass is designed to have a more modern appearance and a more efficient use of space, functionally designed moving components such as trays, drawers, and pull-out cabinets providing better access to your kitchen materials inside of the cabinet.
B.     CONSTRUCTION METHODS
In order to ensure quality and durability of the custom kitchen cabinets, manufacturers make them through different methods depending on how you want them. Here's a list of different construction methods carpenters utilize:
1.     Butt Joints and Woods Screws
Building custom kitchen cabinets using butt joints and wood screws drilled into the sides will be the swiftest way to build the cabinet carcass, without having the need for special tools. You just have to drill to drive the screws in with occasional use of fasteners or wood glue. This is great for those who need their kitchen cabinets to be done in no time. This is also aesthetically pleasing because once the face frame has been installed, nobody will see the joints used. Fasteners can be covered thru covering the sides of the cabinet or by ensuring that the screws are counter-sinked so that you can fill them with wood filler.
2.     Dados
Dados is a construction method wherein a furrow is cut into a board or panel that the edge of another board or panel can be put into place. This is a good method especially with the back of the cabinet drawer that is placed to accept the edges of the drawer bottom. It makes it more durable rather than just gluing or nailing it in place. More than that, cutting a dado will allow the cabinet bottom, fixed shelves and back panel to recess into the cabinet sides will take some time but it is aesthetically pleasing to the eyes for the finished cabinet will look clean and refined. It needs tools like a table saw or table mounted router.
3.     Doweled Joints
Dowel is a very useful technique in order to greatly increase the strength of weaker woodwork joints such as butt joint. This can attach the sides of drawers or cabinet boxes together. This technique uses round wood dowels, termed as pegs, that are secured with an adhesive half way into holes that are drilled in the wood framework. The projecting side of the dowel is then inserted into holes drilled into the mating piece of wood. Perfect markings as a special measuring tool is used to measure the position of the holes for the dowel to be inserted. This tool is known as a dowel centre and they are placed in a predrilled hole.
4.     Dovetail Joints
Dovetail joints are considered the premium standard for kitchen cabinet construction. This is a technique wherein two boards are joined together at right angles such as in drawers. Using v-shaped cutouts, the ends of two boards or panels are notched that combine together at corresponding notch of the adjacent board. Hence, they feature interlocking sections of wood without requiring screws, staples, or nails in order to hold each other strongly. However, you can also add wood glue to make the wood construction last longer. This method is one of the most durable in custom kitchen cabinetry without compromising aesthetic design.
5.     Rabbet
This method of cutting wood needs a table saw or a router, either table mounted or with a jig, in order to cut a notch or step into the edge of a board so that you can place the edge of another board. In this way, it will form a 90-degree angle that needs to be glued or attached with nails or screws. There are variations in the rabbet such as basic rabbet, double rabbet, or mitered rabbet. It is depending on the manufacturer or consumer what to use.
6.     Mortise and Tenon
This type of joinery connects two pieces of wood via the mortise hole and the tenon tongue. The mortise hole is a square cutout in a piece of wood in which the square protruding from another wood (tenon tongue) fits into. This method of joinery can be utilized in the cabinet's face frame. The joint can be glued, pinned, or wedged to lock it in place. It is durable and rigid if done properly. Hence, others prefer this for long standing strength of the cabinet carcass.
CUSTOM CABINET FINISHES
Now that you have the knowledge on kitchen layout and kitchen construction, it is important to also know cabinet finish. It is the last application of color or laminates that wraps up the aesthetic of your cabinetry. Depending on the materials used, the application of cabinet finish may alter the appearance of the cabinetry. Nonetheless, this is a vital step in order to protect the cabinet from being damaged and worn out easily through time. Option for cabinet finishes include:
1.     Waterborne Finish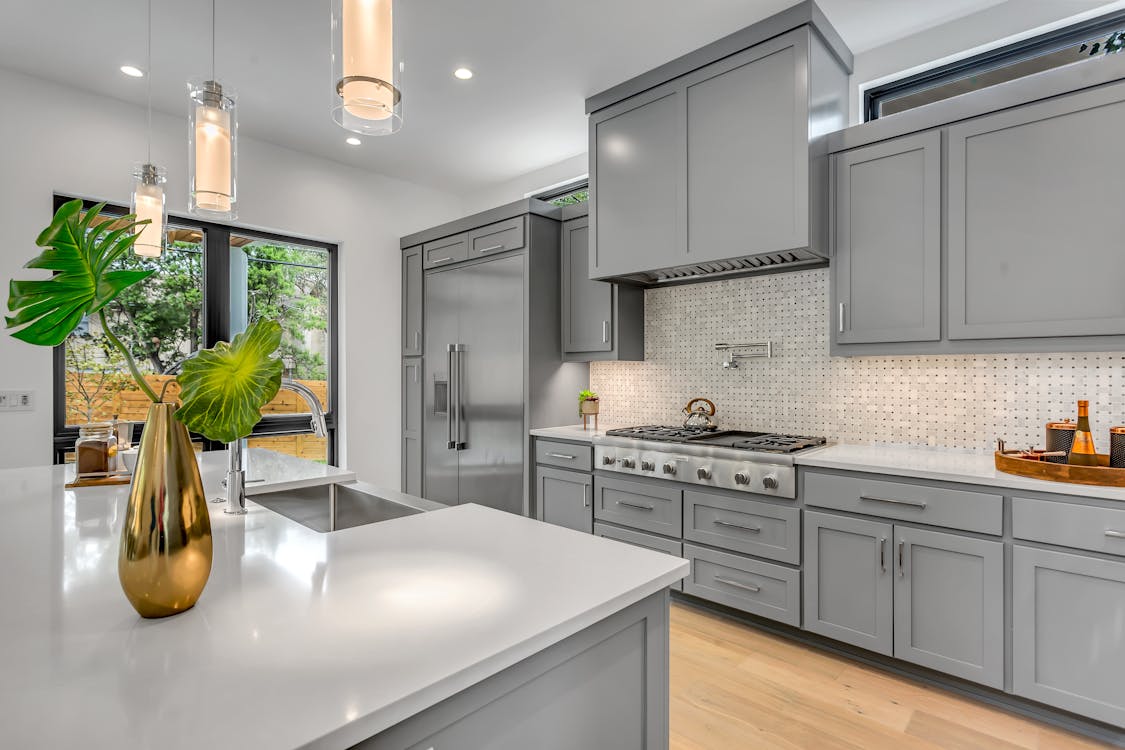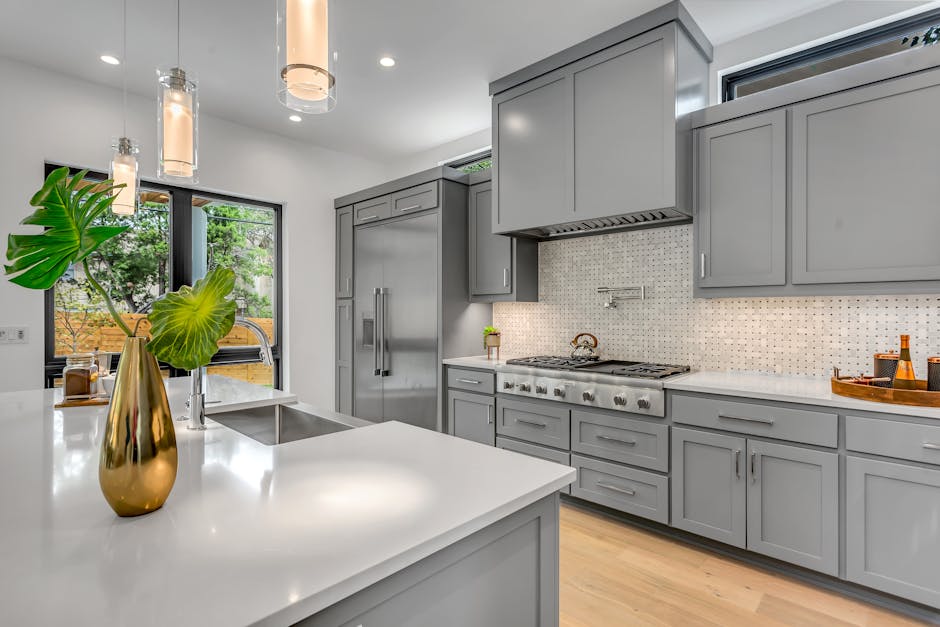 (Source: Pexels.com)
This type of finish is eco-friendly and offers to reduce environmental effects on custom kitchen cabinets. This waterborne ultra-violet (UV) finish is scratch-resistant, low in volatile organic compounds and formaldehyde-hazard free. There is less downtime between application and use because waterborne finishes are diluted in water. The application method is thru first applying the finish. When it dries, it is immediately cured with UV light. The finish product has the same aesthetic quality similar to that of varnished, stained, or painted kitchen cabinets. Cabinets with this finish are easier to clean, scratch resistant, and resists yellowing due to age of the cabinets throughout the years. However, it is relatively more expensive than the typical varnish and paint.
2.     Stained Finish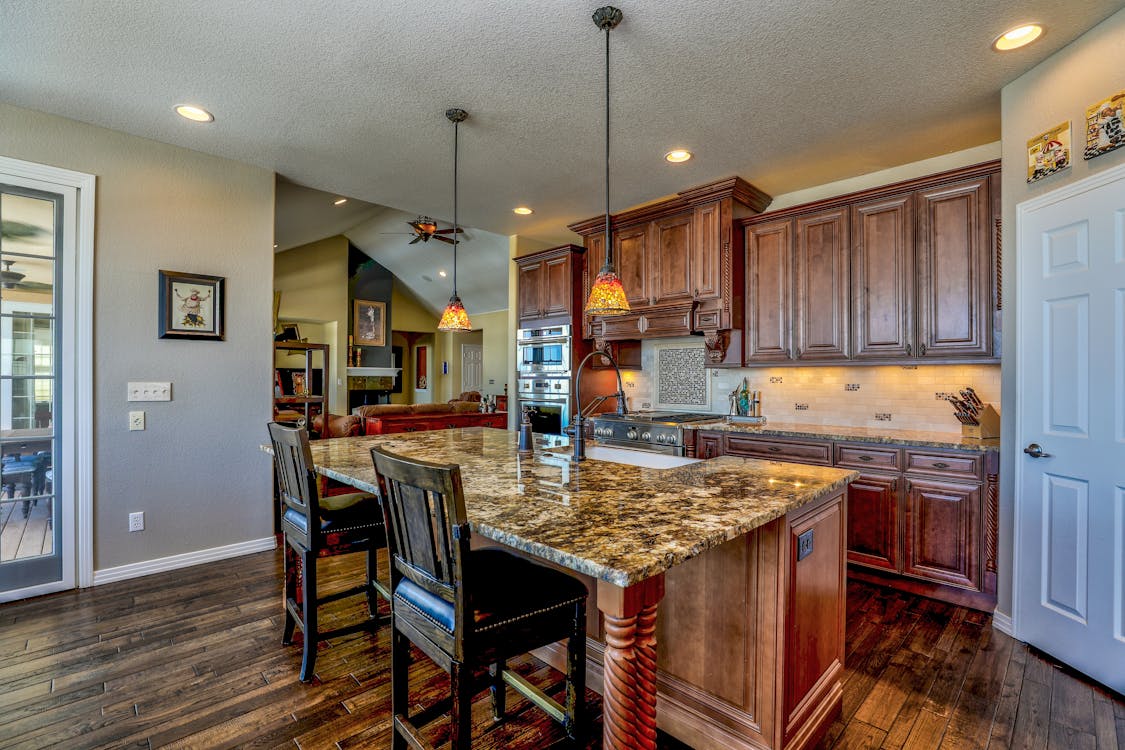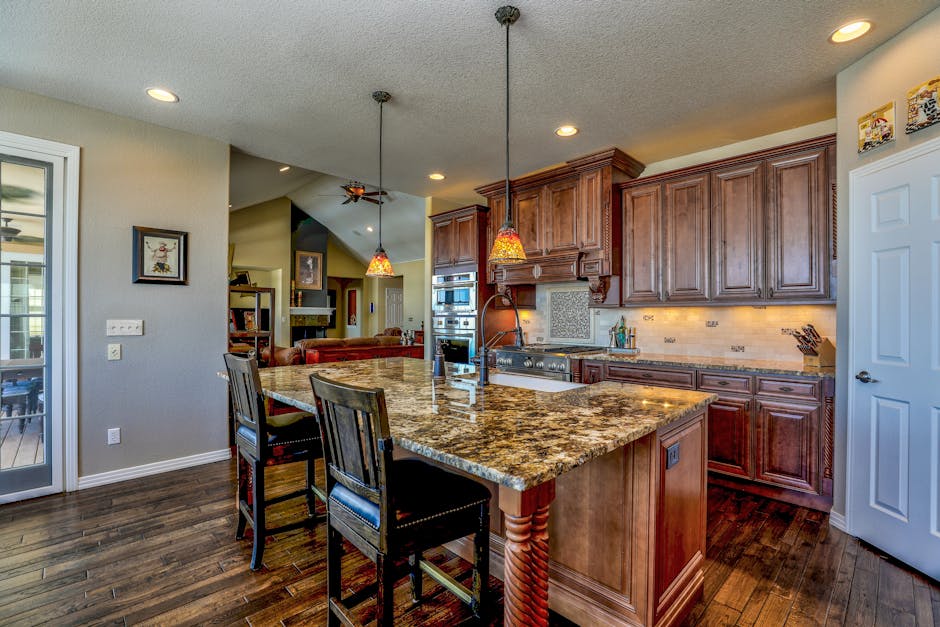 (Source: Pexels.com)
Wood Stain is a topical treatment applied on wood that alters the color, enhances the grain, and protects cabinets from damage. Cabinets can be stained underneath another finishing technique to create another final aesthetic if you desire. The technique in doing this finish is generally hand-rubbed and requires several rounds of sanding and restraining in order to achieve the final look. More than that, because different areas in the wood soak up different amounts of stain, the final aesthetic looks like cabinets have individualized looks. However, there are only fewer color options than painted cabinets because wood stain follows the wood colors.
The average materials cost to stain and finish kitchen cabinets is $0.57 per square foot, with a range between $0.33 to $0.81. The total price for labor and materials per square foot is $7.26, coming in between $4.35 to $10.16.
3.     Glazed Finish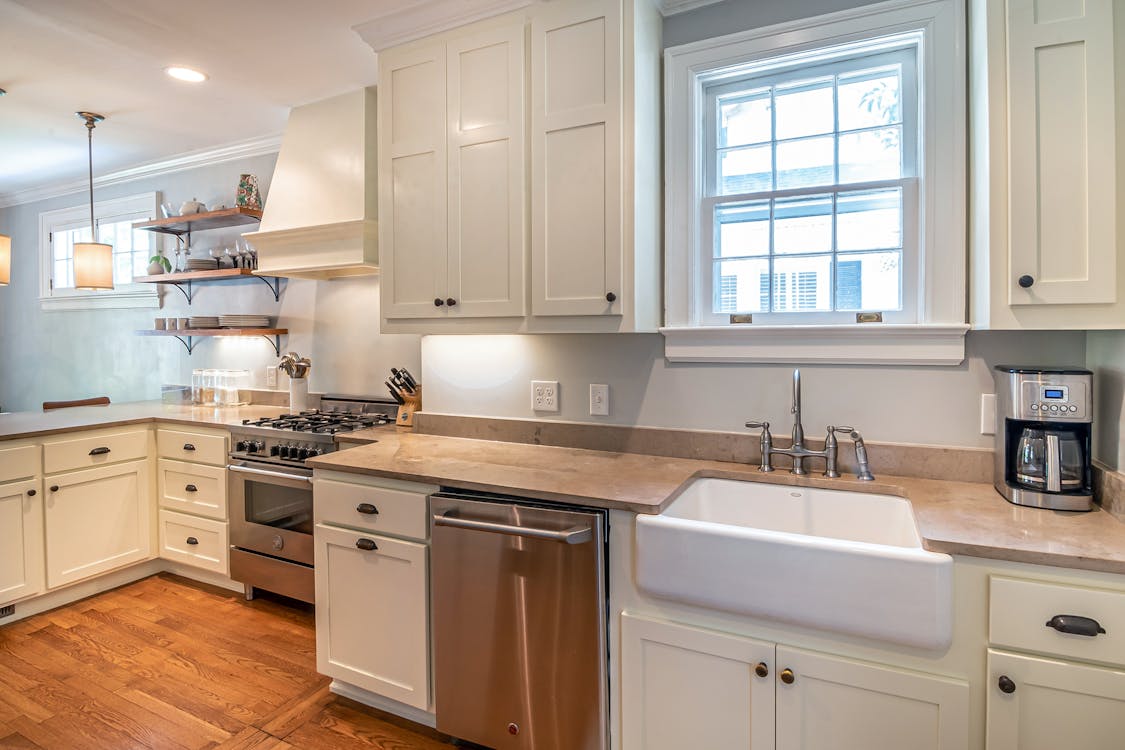 (Source: Pexels.com)
Glaze is a type of finish that is transparent or semi-transparent but still pigmented coating. It is applied over a base coating such as paint or stain. It is used to enhance the aesthetic appearance of cabinets by highlighting the base color or enhancing surface texture and details. Hence, it enhances the details of each species of wood used. It adds visuals and depth to the cabinet. However, a premium type of glazed finish is relatively more expensive than the other types of finish.
Glazing cabinets costs $10 to $25 per square foot, or between $2,000 and $5,000 total for a 200-square-foot kitchen, which is roughly the average size in the U.S.
4.     Painted Cabinets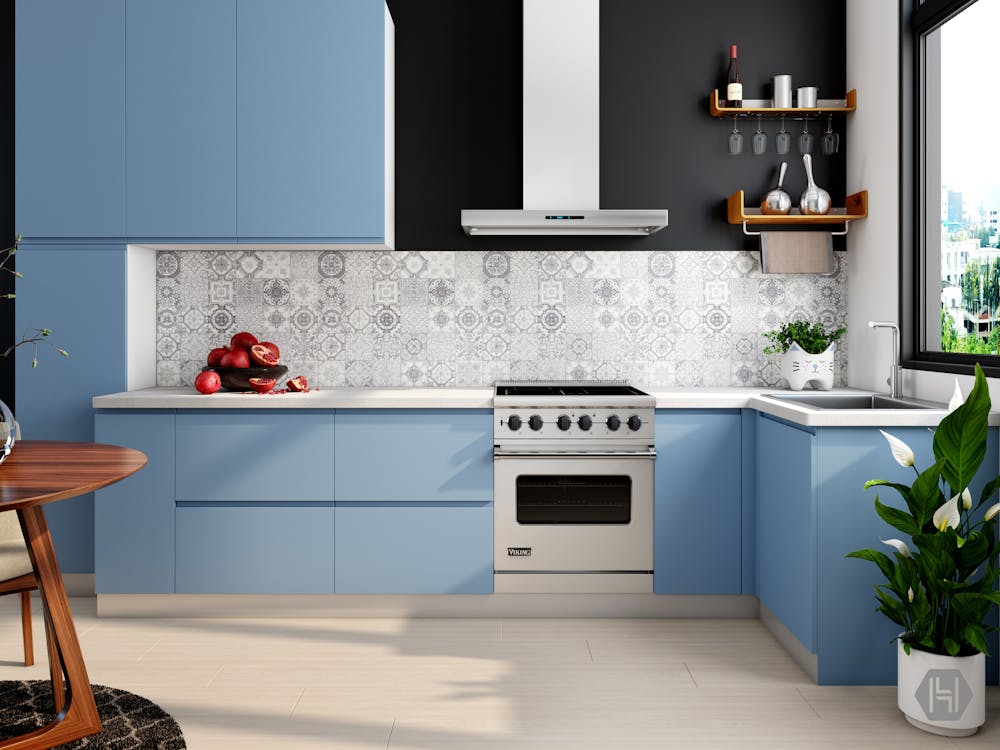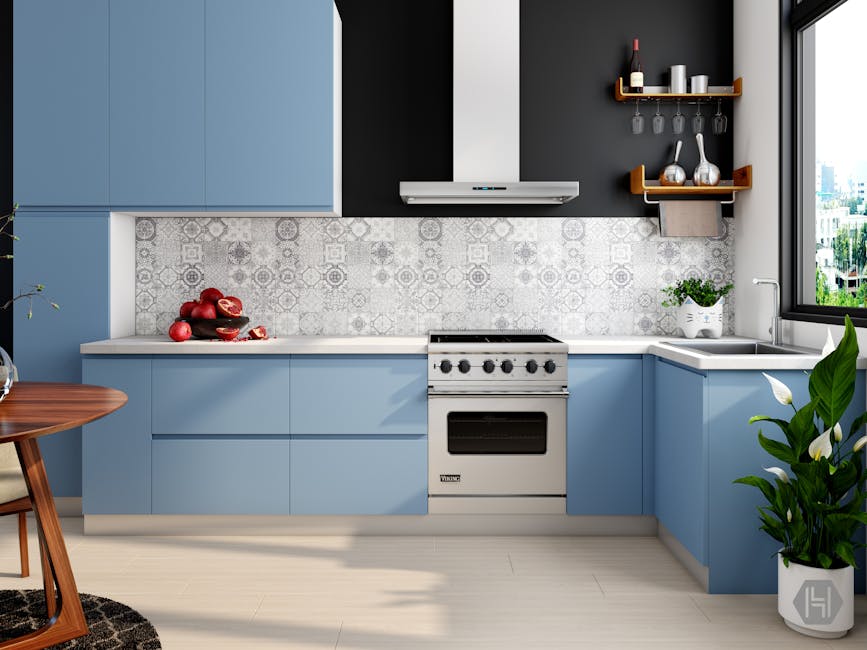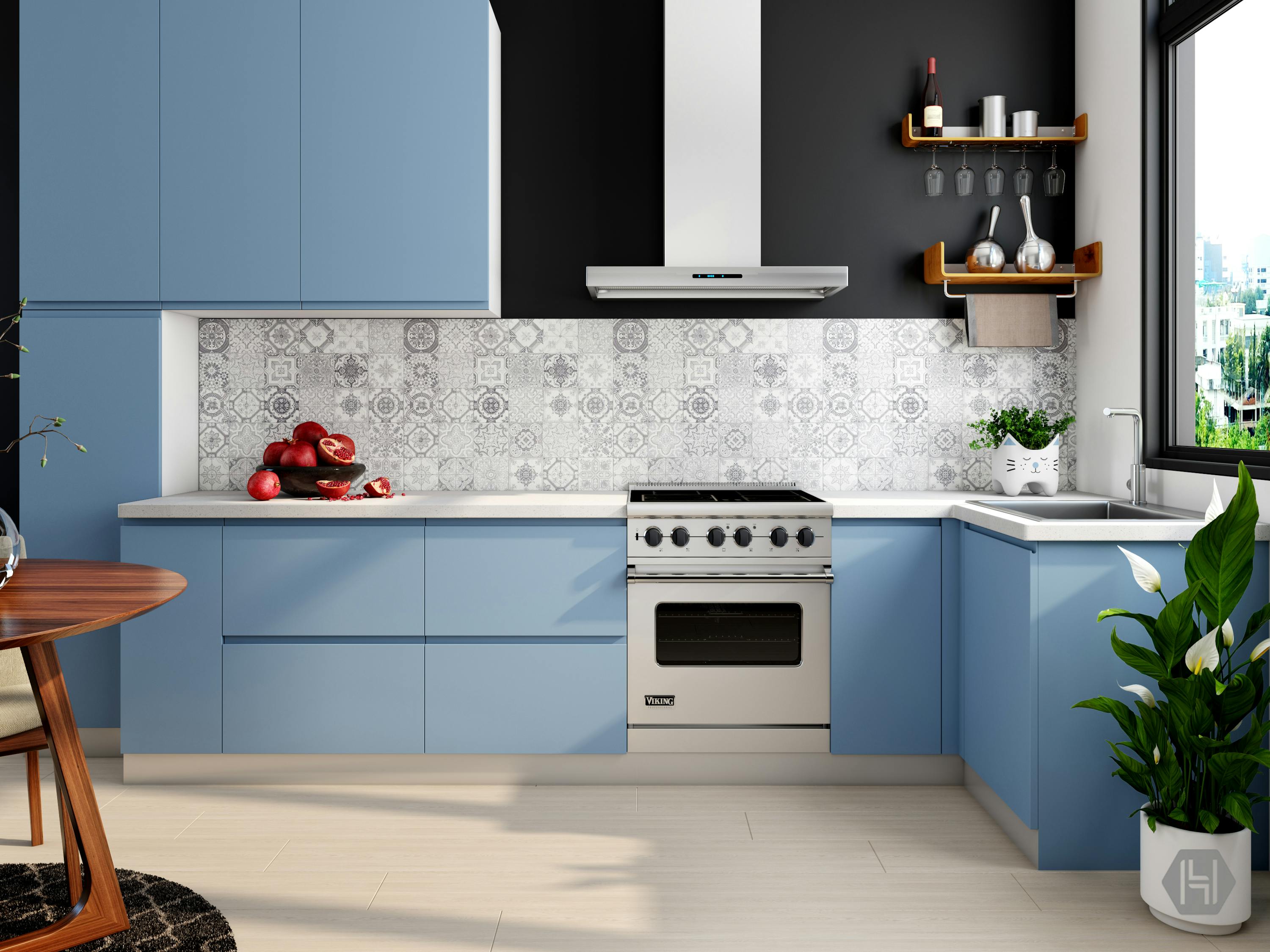 (Source: Pexels.com)
Paint is a good cabinet finish because you have literally an infinite color palette you can choose from. You are not bound like the wood stains. Many of the painted cabinets add a varnish top coat for added protective value to the cabinet finish. More than that, aesthetically speaking, paint can accentuate the paint of the other rooms of the house, making a more whole and connected space to the other parts of the home. Throughout time, paints are more likely to chip and to show dents and can actually rob off in the most used areas. However, because it is relatively easier to change, one can actually easily renovate or repaint if such problems arise.
Painting your cabinets costs $3 to $10 per square foot or $30 to $60 per linear foot for all supplies, materials and labor. Sometimes contractors will charge $100 per door, $25 per drawer or $75 to $150 per cabinet
4.     Varnish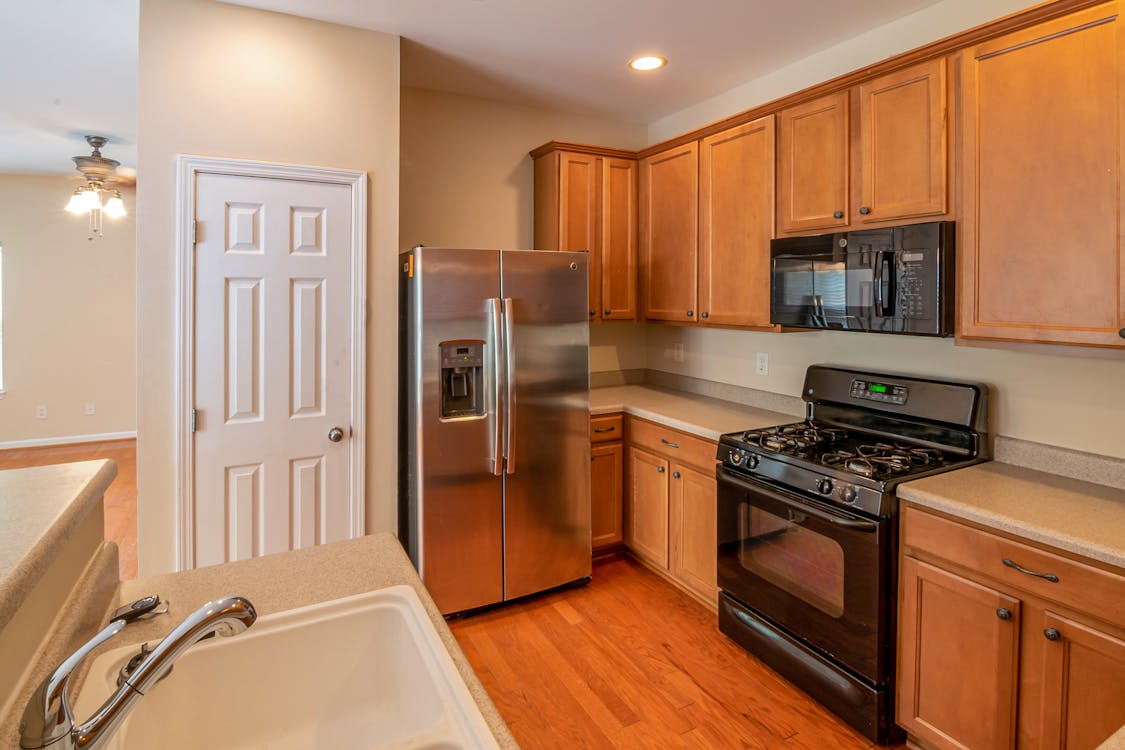 (Source: Pexels.com)
This type of finish is a clear transparent hard protective film. It has no little to no color and has no added pigment unlike paint or wood stains. However, there are some sold in the market that contains both stain and varnish. This finish is primarily used in wood finishing applications in order to enhance the natural tones and grains in the wood. It is applied as a final step to achieve a film for gloss and protection. It is usually glossy, however, may be adjusted to produce a semi-gloss or satin feel by the addition of another agents.
Expect to pay between $4 to $10 per square foot including labor and materials for varnish. Labor alone costs anywhere from $35 to $75 per hour.
As a summary, the kitchen is really one of the most vital areas in a home. With the hectic schedule of most people today, it is only important that the kitchen is functional so that you can save time which you can use in more important matters. One of the ways to do it is to have your custom kitchen cabinets built according to your preferences without compromising its functionality and quality.
Now that you have been presented with the important things that you must know in order to help you decide on what material and type of construction you must follow for your own custom kitchen cabinet, you must put into mind that above aesthetic, quality and functionality should be the utmost priority for the science of saving money and time lie in it.
References:
Southwest Kitchen and Bath. 2018. Retrieved from: https://www.southwestkitchen.com/benefits-custom-kitchen-cabinets/. Retrieved on 11 May 2020.
Bold, C. Kitchen Cabinet Styles: The Differences Between Stock, Semi-Custom and Custom. Retrieved from: https://www.thekitchn.com/kitchen-cabinet-styles-the-difference-between-stock-semi-stock-and-custom-178826. Retrieved on 11 May 2020.
Tops Kitchen Cabinets. 2015. 7 Benefits of Custom Kitchen Cabinets. Retrieved from: https://topscabinet.net/7-benefits-of-custom-kitchen-cabinets/. Retrieved on 11 May 2020.
Kitchen Cabinets King. 2019. Cabinet Finishes. Retrieved from: https://kitchencabinetkings.com/education/cabinet-finishes. Retrieved on 11 May 2020.
Cabinets by Design. 2018. Kitchen Cabinet Construction Method. Retrieved from: https://www.cabinetsbydesignaz.com/kitchen-cabinet-construction-methods/. Retrieved on 11 May 2020.
Tailored Flat Packs Direct. 2017. What Kinds of Construction Methods do makers of Kitchen Cabinets typicall follow?. Retrieved from: https://tailoredflatpacksdirect.com.au/kinds-construction-methods-makers-kitchen-cabinets-typically-follow/. Retrieved on 11 May 2020.
CliqStudios. 2019. Cabinet Materials. Retrieved from: https://www.cliqstudios.com/cabinet-materials/. Retrieved on 11 May 2020.
Dzinic, M. 2020. Designing custom cabinets for usability. Retrieved from: https://www.eurodesignbuild.com/custom-cabinets/designing-custom-cabinets-for-usability/. Retrieved on 11 May 2020
Home Style Choices. 2018. Kitchen Cabinet Construction. Retrieved from: https://www.home-style-choices.com/kitchen-cabinet-construction.html. Retrieved on 11 May 2020.