One cannot deny the kitchen is indeed the heart of the home. Whether it is for a normal meal with family or a large gathering of your loved ones, the kitchen is always the go to place and the life of the home. With that, nowadays, many homeowners are making sure that their kitchens are beautiful and functional. So, many people today want to invest in high end kitchen appliances for their kitchens so that it can serve its purpose to their families.
Like many other machines, kitchen appliances are made in order to make our lives better, easier, and more comfortable, especially today that most people are keeping up with economic demands that almost always keep us busy. These kitchen appliances range from large ones such as dishwashers and refrigerators to smaller ones such as blenders, microwaves and toasters. All of these kitchen appliances make our daily lives better through allowing us to function in the kitchen in a more efficient and faster way, saving us both the time and the energy.
With that, if you are thinking of what are the best kitchen appliances this 2021, you should definitely check and invest on the list we have for you!
1. Smart Refrigerator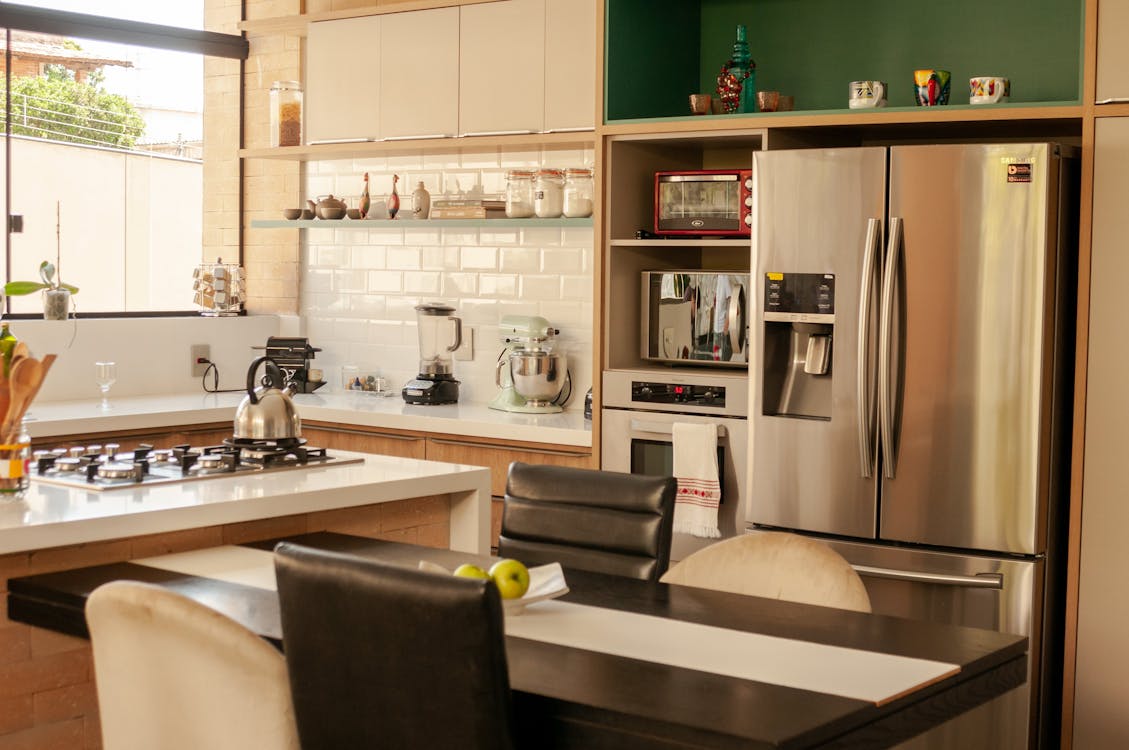 (Source: Pexels.com)
Refrigerators have been with us for several years. It helped us preserve our food and store other ingredients. Today, smart refrigerators are one of the things you should really invest in. Depending on the features built into the smart refrigerator, it lets you do such things as use your smartphone to view what is inside the fridge; send and receive messages and calendar entries that will appear on the fridge's screen; and even get alerts if the refrigerator's door is left open. This technology is surely a huge upgrade from the usual and basic refrigerator.
You should really get your own smart refrigerator because it is considered as the sun in the universe that we know as the home. With that, everything revolves around your fridge – your early breakfasts, healthy lunches, and sumptuous dinners. This is the main reason why you should get a refrigerator that can make you more efficient on a daily basis. Indeed these smart refrigerators may be expensive, however the configuration, finishes, and special features it has are worth the price.
2. Dishwasher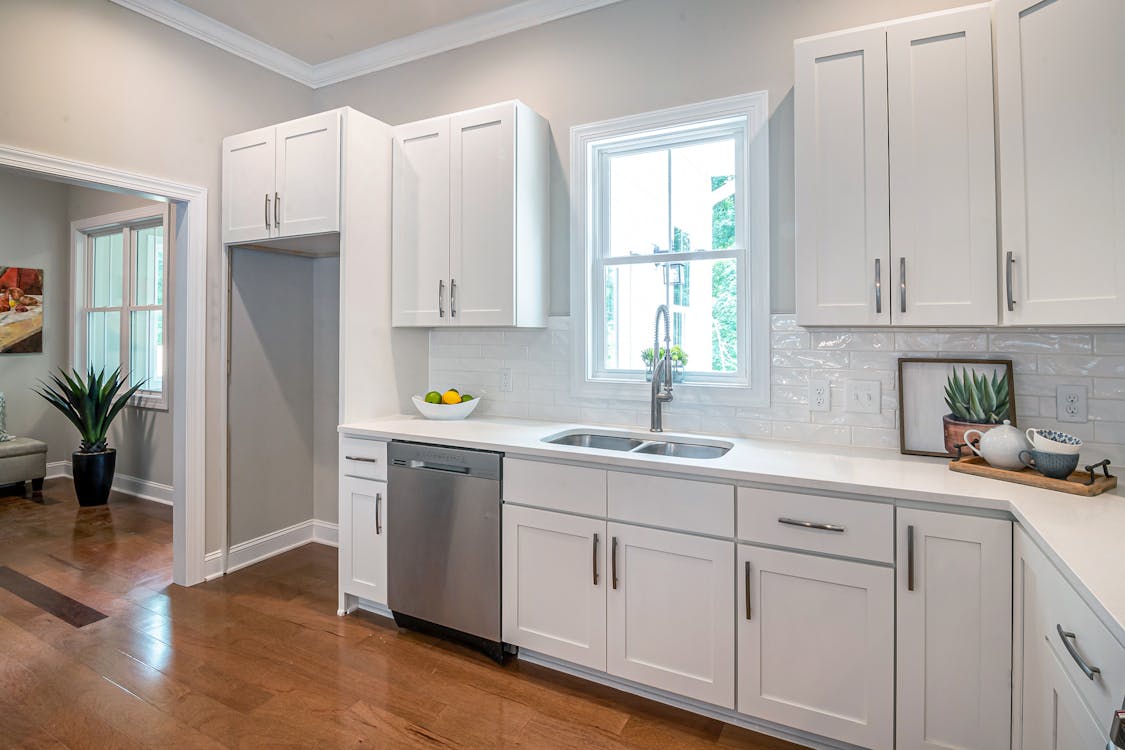 (Source: Pexels.com)
Another amazing appliance that you should definitely have in your kitchen this 2021 is the Dishwashers. Just as its name states, this appliance washes your dishes for you. However, compared to washing everything by hand everyday, dishwashers save more water doing it, while it saves your time from the task of washing up dishes every time. Similar to the washing machines, dishwashers have come on leaps and bounds since they first arrived. Today, many of the dishwashers available in the market come in several smart features, some of which save water and energy, while others are convenience features like delay starts and app control. Maybe one of the best features of this appliance is its perfect dry technology that utilizes special minerals inside the machine in order to absorb water from the air to produce heat, which in turn thoroughly dries dishes and plastic faster. Most dishwashers also offer a quick wash which comes with a water jet system. This system works by spraying water from several points on a spinning arm for a complete 360-degree clean. Furthermore, dishwashers also come with anti-flood technology, which automatically switches off the appliance once it detects a leak inside. Others also come with air dry technology in its system which opens the door of the dishwasher automatically towards the end of a run in order to allow your dishes to dry quicker, while it saves energy.
3. Smart Induction Cooktop
(Source: Unsplash.com)
Whether you are an aspiring chef or just a casual cook, you will surely benefit from a smart induction cooktop. Other than keeping the mess at bay, this appliance can be installed in a wide range of different homes and kitchen set-ups. This appliance does not use a radiant coil to heat up like those required by electric cooktops. Furthermore, induction cooktops do not also require flame like those needed by gas models. Instead this amazing appliance utilizes electromagnetic fields in order to conduct heat and produce an appetizing meal for you and your family.
The advantage to this type of technology is that the heat is directly transferred to the cookware, and will immediately stop as soon as you remove the pot or pan. Baked-on spills are also a non-issue which is very convenient in all senses. Furthermore, one of the best things about induction cooktops is that it is made with a number of different safety features such as a cool-to-the-touch surface, and a lock button which disables controls while you clean. At the end of the day if you are fond of using electric cooktops or gas stoves, then this model works just the same, however it offers a wider range of safety and comfort for users.
4. Smart Oven
(Source: Unsplash.com)
Today, as an upgrade with the traditional ones, smart ovens have been increasingly famous. These ovens can integrate with your connected smart home network and provide advanced cooking technology. Smart ovens still have the same purpose of a traditional oven however it comes with a number of modern features that can significantly save your time and provide you comfort.
One of the great features of smart ovens is that it has wi-fi connectivity, allowing you to control it using your voice or using Google Assistant or Amazon's Alexa. You can also set the oven to preheat, adjust cooking temperature and turn the oven off with just using your smartphone. Most smart ovens also come with expanded oven cycle settings that include bake, broil, warming, convection bake/roast, and proof to help yeast-based baked goods rise before baking. It can also precisely cook more through its multiple types of heating and cooking technology including convection, infrared heating elements, and adding or relocating traditional heating elements. Other smart oven models also provide two separate oven spaces that permit you to cook different foods at different temperatures at the same time.
5. Air Fryer
Air fryers have recently experienced a sudden surge of popularity in the market because it is advertised as a healthy, guilt-free way to enjoy your favorite fried and unhealthy foods. This popular kitchen appliance is utilized in order to make fried foods such as meat, pastries and potato chips, while claiming to reduce the fat content of these foods. Air frying cooks by circulating hot air at high temperatures and at high speeds around the food, like a convection oven, in order to produce a form of crisp food similar to fried foods which is crispy on the outside and moist on the inside. Furthermore, this appliance activates a chemical reaction known as the Maillard effect. This occurs between an amino acid and a reducing sugar in the presence of heat. It leads to alterations in the color and flavor of foods. The benefits of using air fryers include saving energy because they use less energy than a conventional oven; less oil in food because air fryers approximately 70 to 80% less calories and fat compared to deep-frying; air fryers can also save you a significant time because it can also speed up cooking time. This is because air fryers do not utilize the conventional oil cooking which takes more time cooking.
6. Smart Coffee Maker
(Source: Unsplash.com)
Nothing beats a perfect cup of coffee in the morning that can help you start your day, right? Hence, you should definitely invest in a smart coffee maker. Unlike the usual and traditional coffee maker, the smart coffee maker has a number of different features including maintaining a water temperature between 195 to 205 degrees for approximately 5 minutes that is actually the standard for making the perfect coffee.
One of the best features of a smart coffee maker is the ability to control it in your smartphone. With that, you can start a pot from just about anywhere. Most of these smart coffee makers are also bluetooth ready, hence you can manipulate them using your Google Assistant and Alexa at home. You can also schedule a pot to brew at the same time each day with just using your smartphone. Lastly, most of these smart coffee makers include a reusable filter so that it can be environmentally friendly because you can cut down on your waste while you caffeinate each day.
Bottomline
The kitchen is one of your most visited places in your home, and having functional and modern kitchen appliances can save you a lot of time and energy. With that, in 2021, it is important to invest in kitchen appliances that are not only functional but can also provide you significant comfort. Try checking out our list today, and we are sure that it will change your life for the better!
References:
1Turner, S. Home Accessories Tips. 2021. 10 Best high end kitchen appliances reviews of 2021. Retrieved from: https://homeaccessoriestips.com/10-best-high-end-kitchen-appliances/. Retrieved on 12 February 2021.
2European Business Review. 2020. Important Kitchen Appliances You Should Consider For Your Home. Retrieved from: https://www.europeanbusinessreview.com/important-kitchen-appliances-you-should-consider-for-your-home/. Retrieved on 12 February 2021.
3Sebring Design. 2021. 11 Kitchen Appliance Trends That You Can't Miss In 2021. Retrieved from: https://sebringdesignbuild.com/kitchen-appliance-trends-that-you-cant-miss/. Retrieved on 12 February 2021.
4Overstock. 2021. Top 10 Must-Have Small Appliances for Your Kitchen. Retrieved from: https://www.overstock.com/guides/top-10-small-appliances. Retrieved on 12 February 2021.